Dear Abortion Stigma-Busters,
We are firm believers of the power of our collective brilliance and, aligned with our goal to build a values-driven and transparent organization; we have curated a recap of our work during 2022 to honor how we continue to make inroads.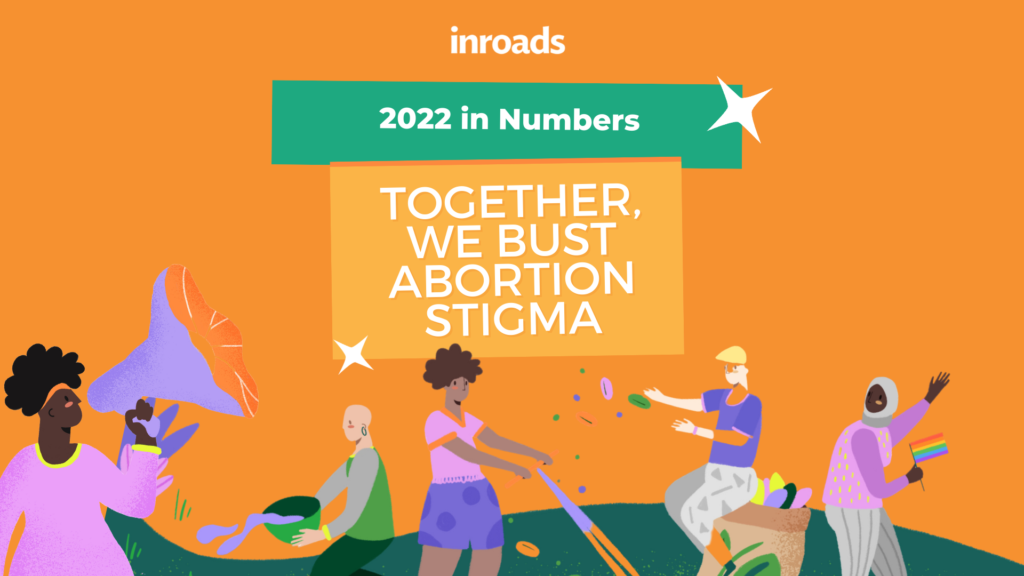 Our growing community
In 2022, inroads welcomed 418 new members and reached a total of 2,169 members in over 110 countries.
Our members are activists, community workers, researchers, abortion providers, funders, and collectives, powering the abortion justice movement worldwide.
Resourcing the movement
In 2022, inroads leveraged over $90,000 to support vital abortion justice work:
$58,000 to 12 Seed Grantee Partners from 11 countries.
$16,550 to honor the contributions of 58 members that facilitated participatory spaces and processes.
$19,000 to support the stigma-busting artistic projects of 19 fellows.
Building collective power and solidarity
In 2022, inroads co-created the following spaces for mutual learning, power building & solidarity:
At the start of 2022, inroads launched a monthly newsletter that has shared over 100 work, funding, and learning opportunities from members and allies. Additionally, inroads amplified and added 71 new stigma-busting resources, publications, and tools to the inroads community library.
In June 2022, inroads launched a renovated & interactive community workspace to serve as a dynamic virtual safe space for power building & solidarity among members, which currently connects 738 members.
At the end of the year, we conducted an in-depth members survey and focus groups to gather our members' insights, ideas, and needs, to keep co-creating our community path forward.
This summary was just a glimpse of our work together last year.
We look forward to sharing more in our upcoming 2022 annual report and to keep shaping this stigma-busting community together.
In solidarity and appreciation, 
Your inroads team