We are excited to share the recording of our powerful panel about Futuristic practices of Abortion Care: Diverse, Dignified, Digital Spaces for Informed and Accompanied Abortion for the RightsCon 2022 Summit.
About RightsCon:
RightsCon is a powerful international summit focusing on human rights in the digital age. The 2022 summit was hosted online in June 2022 and reached a record 9,352 participants from 161 countries.
About the panel:
The panel was moderated by Aditi Pinto from inroads and co-created by members from the inroads community:
Camila Ochoa Mendoza, from Abortion with Love Podcast & Women Help Women
Ihunanya Chukwu, from Generation Initiative for Women and Youth Network and Mama Sophia App
Jasmine George, from Hidden Pockets Collective
Katie Gillum, from inroads
Through the panel discussion, participants learned about the futuristic and creative approaches in which diverse organizations and collectives are busting abortion stigma and ensuring its access through a range of relevant digital-based and community-care-centered processes for abortion accompaniment, narrative transformation, social decriminalization, and stigma-busting that are building the just, equitable and dignified future we need. Enjoy the recording below!
Subtitles & Closed Captions: Please go to settings and select your language for English captions or subtitles in Spanish or French. For other languages, select English and then Auto-Translate. The captions and subtitles are created with automated software.
About the inroads Sentiment Gatherer
During the panel, Katie Gillum introduced the participants to the inroads Sentiment Gatherer and invited them the engage with the tool in real-time.
The inroads Sentiment Gatherer is a participatory digital technology to gather, analyze, and visually represent qualitative data about people's diverse associations with and experiences around abortion.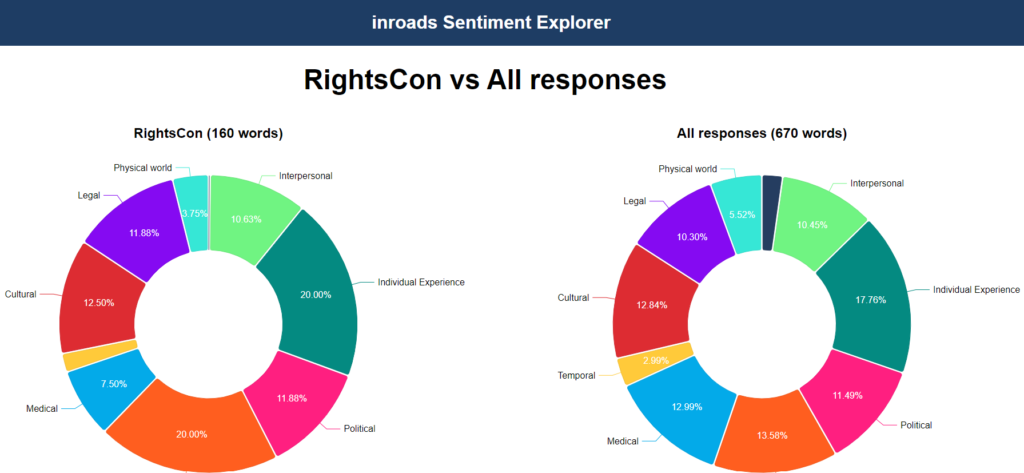 The purpose of the technology is threefold. First, it aims to uncover the nuances in experiences that users have reported around their associations with abortion.  Second, the Sentiment Gatherer employs semantic domains as a means of classifying and qualifying those experiences in order to avoid both the built-in biases and stigma of mainstream sentiment analysis tools and also to bypass the paralyzing and erasing binary discourses of "for"  or "against" that monopolize the bulk of political, social, and cultural communication worldwide.  Third, it creates visual representations of individual and collective abortion sentiments that visually highlight positive and non-stigmatizing aspects of abortion experiences in a way that is meaningful to both those sharing the experience and those who see the developing and changing visualizations. Learn more about the Sentiment Gatherer development here.
inroads commitment to amplifying the voices of the abortion justice community
We organize and support inroads members' participation in key convening spaces as part of our commitment to amplifying the voices, dreams, and efforts of our powerful stigma-busting community and to raise awareness, build solidarity, and ensure participation in strategic spaces and processes.
In an effort to correct the inequitable compensation and volunteerism trend in the traditional global development sector, we are also committed to ensuring that members who contribute their wisdom and lived experiences at key convening spaces receive just compensation for their offerings and allocate inroads resources to do so.

If you are not an inroads member yet, join today! Membership is free and open to all individuals and community organizations working to dismantle abortion stigma across the world.