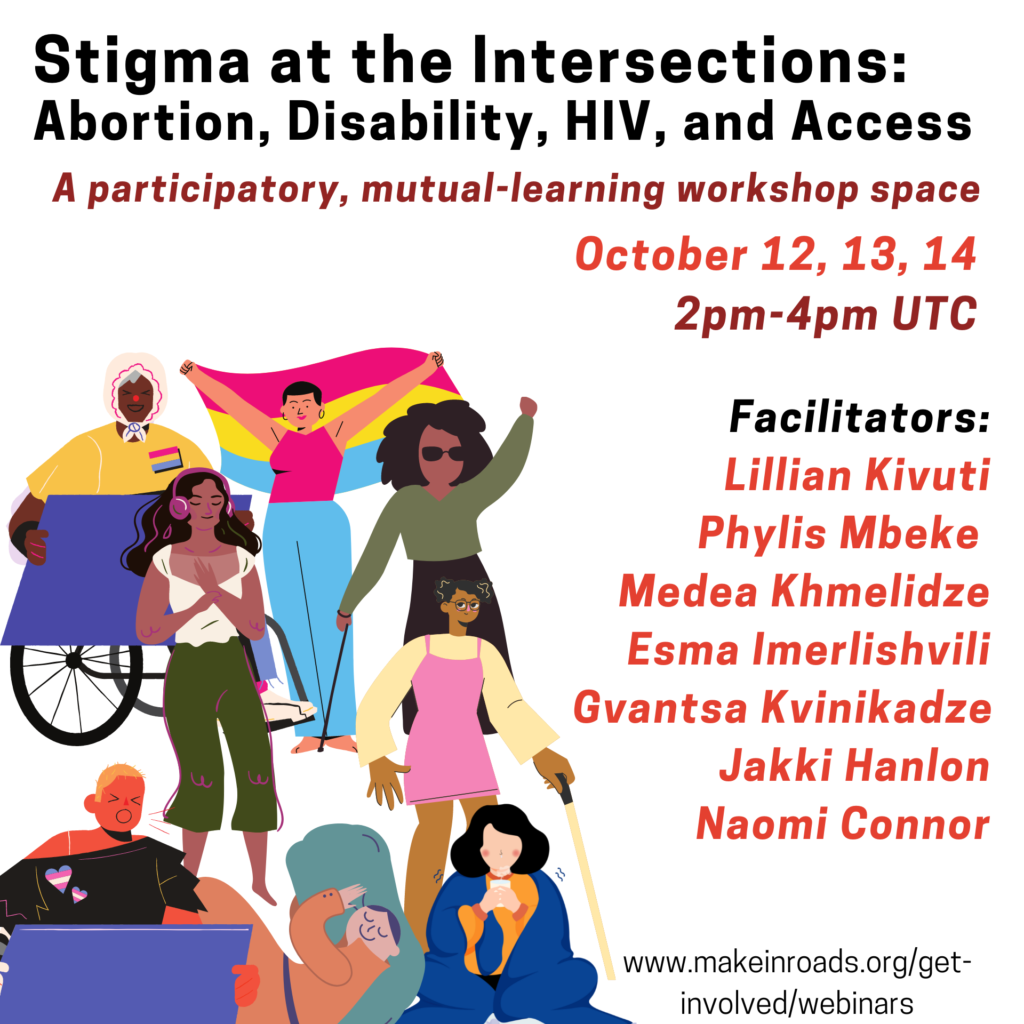 Over the last month and a half, inroads members who have vast experience centering the voices of people with disabilities, advocating for disability and reproductive justice, inter-connecting the disability struggle with that of women, trans and queer people who use drugs, sex workers and people living with HIV, have come together to plan for this week.
We have a fabulous line-up of inroads member facilitators, each who will be inviting you to brainstorm around the BIG questions that come up in this work, sharing from their contexts, successes and challenges and facilitating members through an activity to reflect, build understanding and anti-stigma practices.
You can attend all three days (if possible, this would be a marvellous opportunity and lead to an inroads Cohort who are taking up these questions together) or choose specific sessions to attend. The sessions are on October 12,13 and 14 from 2pm-4pm UTC.
October 12
Dismantling Disability Stigma in Abortion: An Exploration of Different Contexts
Facilitated by Lillian Kivuti and Phylis Mbeke (Kenya)
This session will focus on stigma faced by girls and women with disabilities while accessing abortion services and discuss possible way mitigation. Given the dynamic nature of stigma– enacted through structures and individuals, and mediated by relationships of power, control, and domination that are continuously produced and reproduced by actors either intentionally or unconsciously—How can we normalize abortions among people with disabilities?
October 13
Intersectional Stigmas: Abortion, HIV, Drug Use and Sex Work
Facilitated by Medea Khmelidze, Esma Imerlishvili and Gvantsa Kvinikadze (Georgia)
This session is focussed on Intersectional Stigmas of Abortion: HIV related status, Drug use, and/or Sex Work. Through, collective brainstorming, exchanging information on unique legislation and socio-economic and cultural context, the workshop will create space for sharing realities PLHIV, those using drugs and in sex work face when trying to reach out abortion services.
The workshop explores linkages between HIV, disabilities and abortion, enhances learning on enabling environmental determinants and special needs PLHIV, those using drugs and in sex work have, as well as unwraps impact of intersectional stigmas on the physical and mental health and possible mitigation strategies.
October 14
Abortion & Disability- The Whispered Conversation
Facilitated by Naomi O'Connor and Jakki Hanlon (Northern Ireland)
The session will explore the experiences of people who live at the intersection of disability and reproductive justice. People with disabilities, who live at the intersection, care deeply about both protecting reproductive autonomy, including the right to access safe abortion, and dismantling harmful disability-related stigma.
Is it possible to live in a world where abortion justice and disability rights can co-exist?This workshop examines why that is not only possible, but also necessary. If we are to dismantle the ableist anti choice patriarchal stigma that prevails and is continuously pedalled by opponents of abortion rights who co-opt disability rights language to impose greater restrictions on abortion access, then it's time to take the 'whispered conversation' out of the closet and place it front and centre where it belongs.