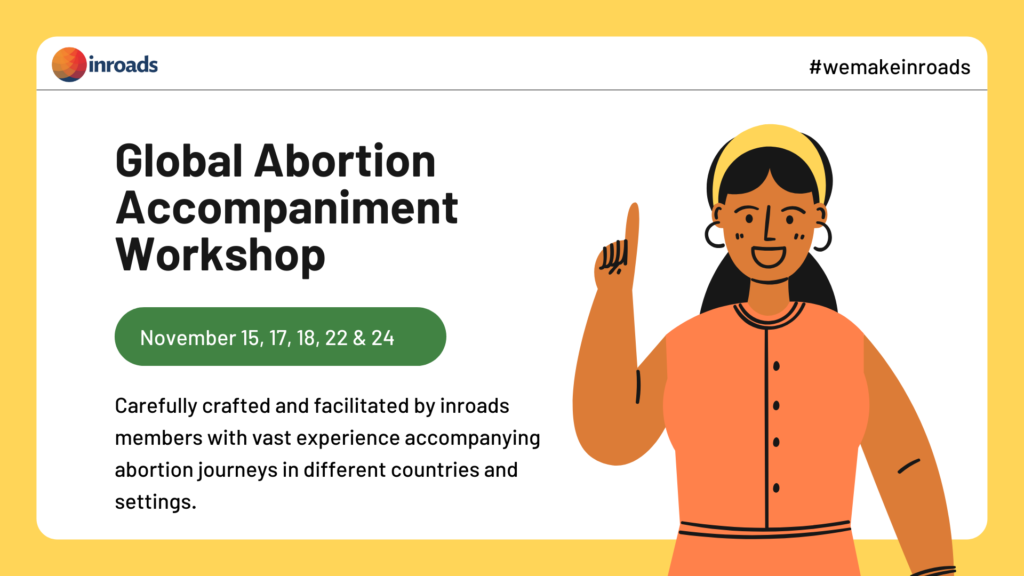 We are happy to invite you to a multiday inroads Global Abortion Accompaniment Workshop, carefully crafted and facilitated by inroads members with vast experience accompanying abortion journeys in different countries and settings.
The workshop's goals are:
Mutual learning around inter-sectional and stigma-busting approaches to care and support abortion journeys.
Relationship building between members who do the community-care work of accompanying abortions in distinct social, cultural, geographical, and political settings worldwide.
The 5-day workshop is a participatory, learning, and un-learning space where participants will explore the following topics and questions:

November 15: What is Abortion stigma, medical abortions, and why is Accompaniment important?
Facilitated by Daniela Tellez del Valle (Di RAMONA), Vane Jimenez and Sandra Cardona (Necesito Abortar), from México.
November 17: What does a world with accompaniment, feminist companionship, and referral look like in diverse settings?
Facilitated by Ika Ayu (Samsara) and Mitra Kadarsih (midwife), from Indonesia.
November 18: Why must we talk about Intersectional stigma at the individual level when accompanying abortions?
Facilitated by Karo Więckiewicz and Natalie B (Abortion Dream Team), from Poland.
November 22: How do we explore our values while supporting abortion journeys? How do we set boundaries?
Facilitated by Zachi Brewster and Carly Manes (Dopo Abortion Support), from the United Kingdom, USA & Italy.
November 24: How do we unlearn stigma at the community level, and pull in various stakeholders to support accompanied abortions?
Facilitated by Rosemary Shikari (NAWIRI), from Kenya.
The workshop is for inroads members that:
Have accompanied abortions as doulas, acompañantes, midwives, traditional health attendants, hotline workers, nurses, clinic staff, doctors, therapists, etc., or who have supported abortion journeys in their lives for community members, family, partners, and friends.
Are interested in building networks and practices of community care to support abortions.
All workshops are 2 hours long, from 1:30-3:30 pm UTC. You can select your timezone in the registration form to see the time in your location before registering. The live sessions will have interpretations for English, Spanish, and French.
The space is limited to just 25 participants per session to make it as dynamic and participatory as possible. Members can attend all five days or choose specific sessions to attend.
Please treat your registration as a confirmation of attending the entire 2-hour session, and honor our commitment by attending and actively participating in the live session.
If you are interested but are not a member yet, apply to join inroads today!

#wemakeinroads
#inroadsmembers