inroads Fellowships
inroads fellowships are a collective process that bring members together around a unique abortion stigma-busting theme. The purpose of our fellowships is to be a space of mutual learning, creativity, and joy that begins from a space of questions rather than pre-decided notions, and encourages exploration rather than predetermined expertise on the topic area. The vision is that fellowships inspire and support members to engage in intersectional stigma-busting and cross-movement conversations & initiatives centering abortion justice and decolonial practices for our collective liberation.
THE FELLOWSHIP FORMAT
Over the course of 3 to 6 months, fellows engage in mutual sharing and learning circles (often referred to as "co-learning circles) with other fellows and inroads members from diverse contexts, engaging with the topic at hand creatively, thoughtfully, and asynchronously within their own communities and surroundings, and also participating in guided activities shared by the fellowship advisors. Fellows develop a personal or collective project that reflects and is created around the theme of the fellowship, with the aim that the project can be shared with their own communities and the larger global inroads network. To support their participation and to honor their work and contributions, all fellows are given a stipend of USD 1000 for the period of the fellowship.
APPLICATION & SELECTION PROCESS
All inroads members are invited to apply to the fellowships by filling out a form that is available in English, Spanish or French. Applicants who meet the basic eligibility criteria of being an inroads member and using non-stigmatizing language in their fellowship application are then moved to a collective selection process, led by a member advisory panel of 4 to 5 inroads members, to encourage starting from a place of experience, questioning and creativity.
UPCOMING FELLOWSHIPS
There are no upcoming fellowships at this time.
Watch this space for more opportunites and updates.
PAST FELLOWSHIPS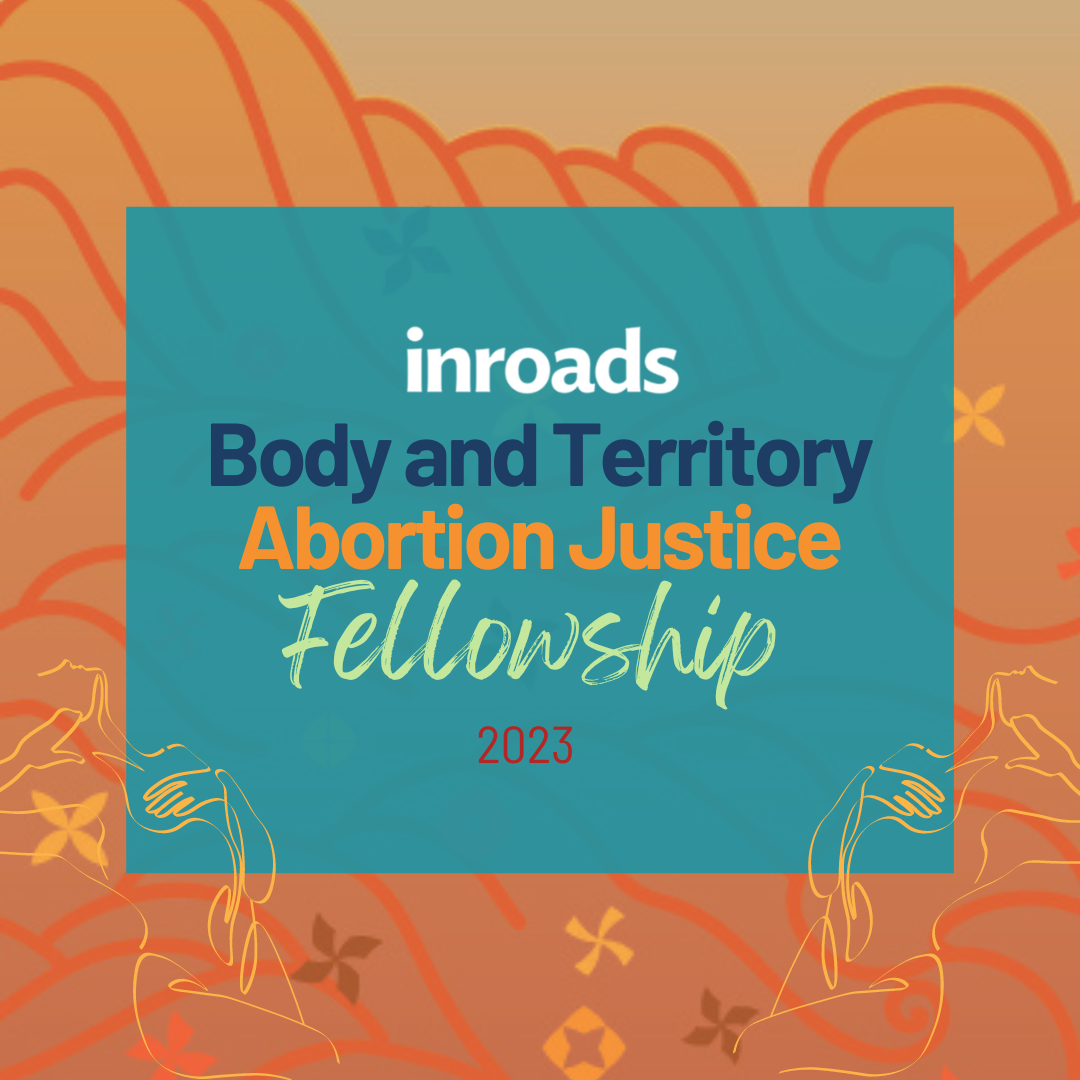 Body and Territory: An Abortion Justice Fellowship
Carried out in 2023.
The Body and Territory: An Abortion Justice Fellowship by inroads will be an exploratory, collective process which aims to gather 10 inroads members as fellows working at the forefront of abortion justice as it relates to body, territory, ownership, and autonomy.
Fellows will be able to explore and ask questions around themes such as migration, climate justice, prison abolition, indigenous land movements, rural area resources, neocolonial settlements, and more as they relate to bodily autonomy and abortion justice in today's ever-changing global climate. What is conquest? What does it mean to have ownership over the body as territory? How is territory dictated, in the earth, through the law, and more, and what are the questions we must ask of the movements we are involved in and continue to create for change? These are only some of the questions which the fellowship will seek to uncover and ask more of, through a three month collective learning process that aims to produce an anthology with a publishable and shareable digital outcome by the end of the fellowship.
Learn more here
Artists Busting Abortion Stigma Fellowship
Carried out in 2022.
Our worlds are shaped by the stories that surround us, and our abortions are impacted by these frames and details.Narratives around abortion that are stigmatizing can cloud up our worlds by restricting access, care, and support.They create systems that deny health and care for all, both in fully legal and restricted abortion settings, especially impacting queer, disabled, poor, black, dalit and migrant people.
Stigma - busting narratives, on the other hand, that call for a world where everyone can have the abortions they wish to, in a dignified manner, can precipitate radical change that is rooted in our divine right to our bodily autonomy, to liberation.
Aligned with our goal of shifting power & narratives and resourcing the communities powering the reproductive justice movement, inroads launched the Artists Busting Abortion Stigma fellowship to support and advance the work of inroads members using their diverse artistic talents to create stigma-busting narratives able to shift the conversation to build a happier, healthier and more just world free of abortion stigma.
Learn more here