We are excited to share that inroads will participate and host an Abortion Sentiment and Care space at the 10th Africa Conference on Sexual Health and Rights hosted by Purposeful in Sierra Leone from June 27th to July 1st, 2022.
Inspired by the power of community, inroads is hosting this space for reflection, connection, expression, and joyful care. If you are attending the conference, we would love to see you there!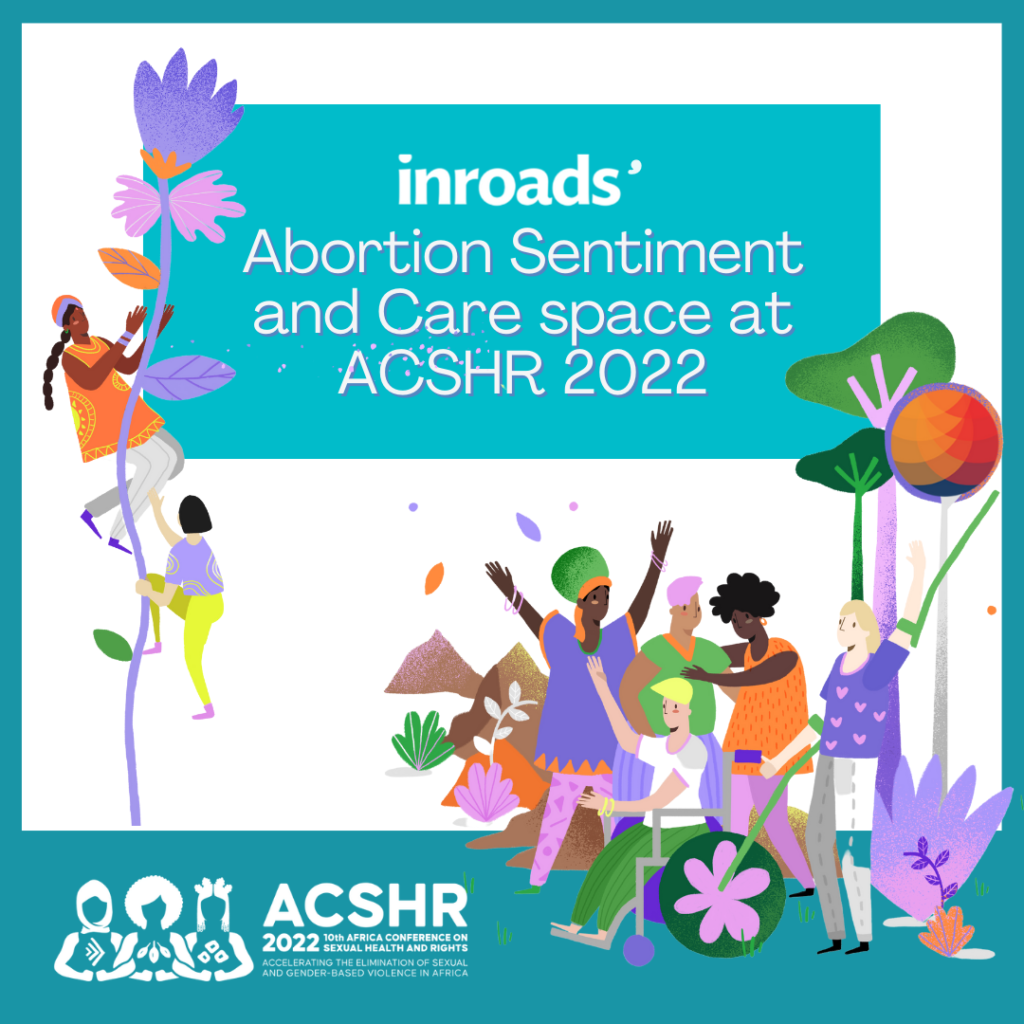 TOOLS AND APPROACHES
inroads' sentiment gathered explorer: a participatory digital technology to analyze and visually represent qualitative data about people's diverse associations with and experiences around abortion. The purpose of the technology is threefold. First, it aims to uncover the nuances in experience that users have reported around their associations with abortion. Second, the Sentiment Gatherer employs semantic domains as a means of classifying and qualifying those experiences in order to avoid both the built-in biases and stigma of mainstream sentiment analysis tools and also to bypass the paralyzing and erasing binary discourses of "for" or "against" that monopolize the bulk of political, social, and cultural communication worldwide. Third, it creates visual representations of individual and collective abortion sentiments that visually highlight positive and non-stigmatizing aspects of abortion experiences in a way that is meaningful to both those sharing the experience and those who see the developing and changing visualizations.

Collective care artistic expression and exploration exercises. When participants enter the room, they will be welcomed into a caring environment that has a sensitive and relaxing light, relaxing music, and some aromatics. The participants will have the opportunity to explore, through different art mediums (paint, poetry, and such) and express their abortion sentiments. The room will showcase curated stigma-free abortion resources and art from the inroads community. As participants leave the room, they will be invited to take a sticky note and write a word or two that captures how they are leaving the space.
SPACE PRINCIPLES ALIGNED WITH THE INROADS COMMUNITY VALUES
Community Care: The network values care in the abortions we want to destigmatize, in the work we do, and in the way we treat each other as fellow members in the network. We seek a world where abortions are considered normal and allowed to have the meaning and valence relevant to the person having that abortion; where people can access the abortions they need or want, with dignity and humanity. We believe support, exchange, and uplifting each other are integral to the work of ending stigma.
Equity: We come together with different needs, unequal backgrounds, and diverse contexts, and we acknowledge and consciously address these. We intentionally turn systems upside-down to see them better, remake them, or dismantle those preventing our success and progress. We hold an intersectional feminist approach, that understands our intersecting social identities and experiences, to co-create our collective liberation. We center lived experiences of abortion and abortion stigma, we shift narratives of scarcity to abundance, and we challenge the power.
Authentic Engagement: Experience is expertise at inroads, and thus there are multiple ways to "make inroads" on abortion stigma. Members share, be, learn, listen, act, make decisions, and steer the direction of the network. When we engage in a circular process of reflection and action, we connect and create the community of practice. We nurture our differences as strengths that allow us to generate spaces of honest learning, shared desires, and radical support.
Fearless Passion: We are aflame with the conviction that a conscious, committed, and multifaceted strategy will pave the way for a world without abortion stigma. We challenge any boundaries or binaries that are put on us–they have no place in our liberation–and we vibrantly celebrate each other's successes and observe the failures. We are one and many, authentic and creative, accountable to only ourselves and our communities. We will end abortion stigma, and we will do it together.
We are thrilled to continue to collaborate with feminist partners to ensure that busting abortion stigma is a priority within the sexual health and rights agenda.