We are excited to share that inroads will be holding a powerful stigma-busting session in person at the Human Rights Funders Network Global Conference taking place in Oaxaca, Mexico, from November 29 to December 2, 2022.
About the session
Abortion: Solidarity without stigma in the construction of collective rights.
The 90 minutes session will take participants from the human rights defenders and funders community on a dynamic journey to explore how funders, activists, and grassroots organizers are working together to build solidarity networks that bridge the borders of neighboring countries and communities to expand the reach of access to abortion healthcare – a fundamental human right.
The session is co-created and led by:
Aditi Pinto (she/they) from inroads, an international network committed to building a world free of abortion stigma by funding movements and strengthening connections within the global abortion justice community.
At inroads, Aditi holds and co-creates spaces and programs of Solidarity and Cross-Movement work, such as Artists Busting Abortion Stigma Fellowships, Intersectional-Stigma workshops, and the Abortion Community Care Fund. As someone who has had abortions, they value reflections and actions to fight for reproductive justice, working on un-doing individual stigma to generate communities of care. They love baking cakes for friends, sleeping in late, followed by sunset & moon gazing!

Verónica Cruz (she/her) from Las Libres, a group focused on defending the human rights of women accessing abortion care in Mexico with over 21 years of trajectory, and one of the organizations behind the Mexico-US border abortion accompaniment solidarity network.
Feminist, defender of women's human rights, social worker, and member of Centro Las Libres, she has specialized in the right to a safe, open, and free abortion. She has built accompaniment processes for victims of rape so that they have access to legal abortion and justice, and created training processes and accompaniment and models for access to safe medical abortion through women's networks for the decriminalization of abortion. Additionally, she has built organizational and training processes for the investigation, documentation, defense, and litigation of cases of those criminalized for accessing abortion care.
Katrin Wilde (she/her) from the Channel Foundation, an organization that promotes women's human rights by funding intersecting streams of the global movement for gender equality.
As Executive Director of the Channel Foundation, Katrin Wilde guides its grantmaking, advocacy, and collaboration in order to support and promote leadership in women's human rights around the globe. She serves on the Board of the Front Line USA Foundation, the Mize Family Foundation, the Philanthropy Council of the Global Fund for Women, and the Advisory Board of the Center for Human Rights at the University of Washington. Previously, she was a member of the Board of Directors for Engaged Donors for Global Equity (EDGE) Funders Alliance.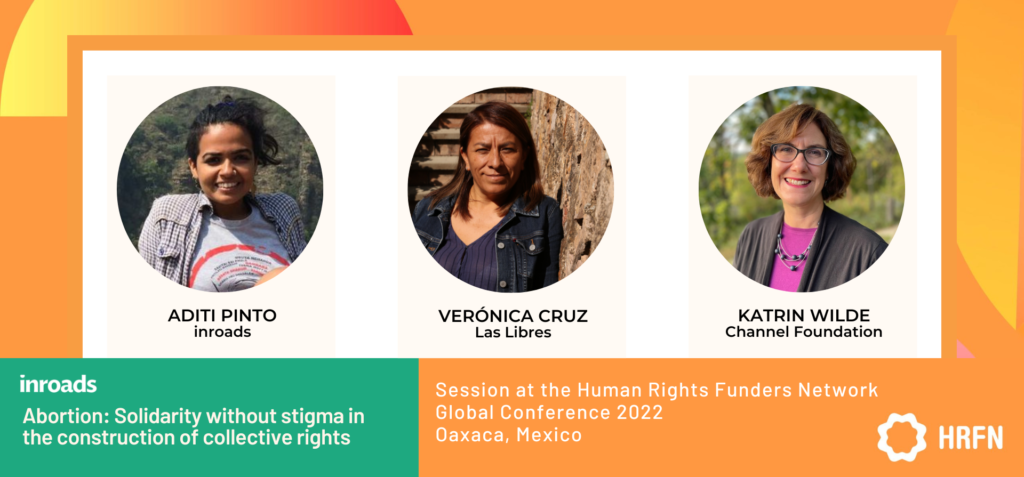 Building collective power and solidarity
Supporting abortion is supporting a fundamental human right. As we experience the human rights violating efforts to restrict, penalize, and criminalize abortion across the world, we need funders and major donors to show up with the same bravery, resistance, resilience, and persistence of our communities powering the reproductive justice movement.
We hope this session, and our participation in the Human Rights Funder Network Conference, together with many other organizations from the reproductive justice movement, encourages funders to take action to nurture and further the work of the front-line human rights defenders of abortion care access across the globe.
A core component of this effort is busting the abortion stigma that is produced and reproduced pervasively across society, including within the philanthropic sector. We invite all funders to take a stance and join our pledge to destigmatize abortion within philanthropy.
Honoring our community
inroads organize and support inroads members' participation in key convening spaces as part of our commitment to amplifying the voices, dreams, and efforts of our powerful stigma-busting community and to raise awareness, build solidarity, and ensure participation in strategic spaces and processes.
In an effort to correct the inequitable compensation and volunteerism trend in the traditional global development sector, we are also committed to ensuring that inroads members who contribute their wisdom and lived experiences at key convening spaces receive just compensation for their offerings and with the support of the Channel Foundation we mobilized resources to do so at this event.

If you are not an inroads member yet, join today! Membership is free and open to all individuals and community organizations working to dismantle abortion stigma across the world.