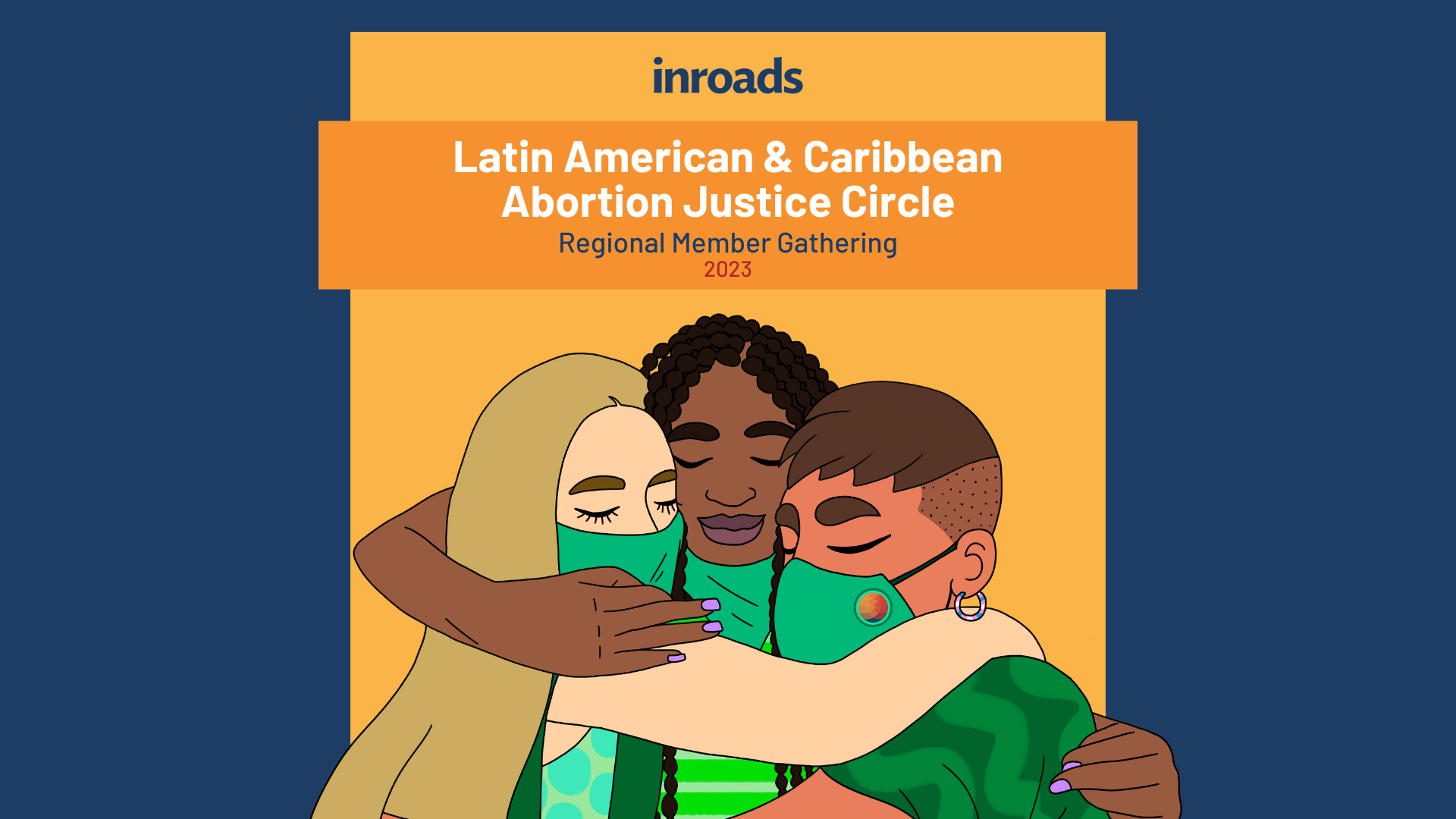 Here you can find information to gather and prepare to apply to attend the Latin American and Caribbean Abortion Justice Circle, a 3-day long intimate gathering of members from the region working on intersectional areas of abortion stigma in Latin America and the Caribbean, held from 25-27 September in Bogota, Colombia.
Applications will open in the 2nd of May 2023 and close on the 31th of May 2023 at 9 pm UTC. Check for your time zone here.
For more details, visit the main page of the gathering here.
Frequent Questions and Answers to gather information to apply.
Ensure you meet the basic criteria to apply:
inroads members that are from and/or lives and/or have a significant part of their work grounded in the Latin American and Caribbean region can apply to attend.
If you are not an inroads member now, please make sure you have applied to join the network before April 30 2023 to be able to apply for this gathering.
You must use inclusive and non-stigmatizing language in your application.
How many people from your organization are planning to register?
Due to size restraints, we can only fund one and accommodate no more than two individuals from any member organization. If you are a country office, member association, or chapter of a larger organization (such as IPPF, Ipas, Medical Students for Choice, etc.), then we mean the specific country office, not the larger organization.
What will the registration and application form consist of ?
Everyone who wishes to participate in the gathering must fill out the registration and application form that has three sections:
Section 1: Journey and Goals- About You!
Section 2: Sharing- what you wish to offer and learn at the gathering!
Section 3: Funding and Access- Your needs
Section 4: Personal Details
How will the participants of the gathering be selected?
All applicants will be screened, reviewed and rated by inroads staff based on their contexts, learning and unlearning goals, session proposals and innovative methodologies shared. NOTE: funding and other access needs will not form a part of the initial review process. Inroads staff will fill out a conflict of interest form to ensure fairness and equity in the review process, and will not review applications of members who they have a close working history or any other type of relationship with.
Once inroads staff finish reviewing and rating applications based on section 1 and 2 of registration form, inroads will invite the "top rated" applications, both funded and self-funded, to attend. Rating and reviewing will be done keeping in mind geographical and experiential diversity. Therefore a "top application" would not necessarily be one that demonstrates most expertise, for us 'experience is expertise', and an applicant's potential for growth and connection through such a gathering are equally important.
Will applicants have a say in the selection process?
In the first two weeks of June, inroads staff will invite applicants to express interest in each other's session proposals. Anyone who has applied for the gathering may choose to participate in this process, which involves rating on a sliding scale session proposals. Inroads staff will keep these interest and excitement levels in mind while going into the review and rating process.
Are you planning to apply for funding?
If so, fill out the entire form before May 31 2023 and pay special attention to Section 3: Your funding needs. Please consider carefully your funding requests, we have several tiers of funding needs possible, and whether you have other possible sources of funding.
We will prioritize individuals from groups or areas of work who are largely underfunded and may not have access to such spaces easily.
We will prioritize individuals who do not commonly have access to these types of spaces.
Any inroads member who has attended more than two inroads gatherings in the past will not be eligible for funding. However, they may apply for a registration place with their own funding.
Do you have your own funding?
You would be required to fill out the entire form before May 31 2023 and state that you have your own funding.
What are you ready to share with fellow inroads members?
We are asking you to explain in this form what you would like to share with other members at the gathering in Bogota. So be prepared to complete questions about your context and location of abortion stigma-busting work, your learning and unlearning goals at the gathering, as well as a short session proposal that you could facilitate to co-create the agenda in line with our participatory and mutual-learning principles.
We have different kinds of sessions members can propose with following formats:
Arts and Community Care (30 minutes- 1 hour)

Picture a community of abortion stigma-busters gathered in a circle at the opening and closing of each day of our gathering. hese session proposals should be for one hour long facilitated spaces, collective rituals, engaged conversations, arts and film festival evenings, experience dialogue circles, performances, installations or showcases that spark joy, create a safe and connected space, ground us and lift us up.

Abortion Justice in Reflection and Action (1.5 hours)

Imagine a space which is about the practice of doing abortion justice work: sessions that allow for reflections while joining in, doing and creating together. For example, by gathering in a session to create a gender inclusive terms list for abortion workers, we could discuss queer abortion stigma and language. Or by gathering in a session around mapping abortion pill supply chains, we could talk about access and building better networks.

Stigma-busting Strategies (1.5 hour)

This would be a sharing circle to share about stigma-busting strategies that have failed or succeeded, that are in process or being dreamed up and that need feedback or collective input. Picture a storytelling session using images, videos and campaign materials. For eg. sharing around social and legal decriminalization campaigns around abortion, acompañante school curriculums etc.

Capacity Building Training (1.5 hours)

Do you have skills around an area of capacity building that would benefit other stigma-busters, especially in person. Examples could be media campaigns, fundraising and reporting, autonomous resource mobilization, intersectional movement building, language justice in the LAC context and beyond.

Open Hours by Donor organizations: (1 hour)

where members can reach out to have practical conversations about funding opportunities, donors' landscape and mechanisms, or ask about their strategy and priorities.
Do you require interpretation?
Inroads member gatherings are participatory events with large and small group interactions. For this inroads Global Member Gathering, we will conduct activities and prepare content in Spanish and English with interpretation available for these languages and French and Portuguese as well. If you have any other interpretation needs, do let us know.
Important Dates and Timelines
| What? | When? |
| --- | --- |
| Until April 30 2023 | Join the inroads network if you are not already an inroads member |
| May 2-31 2023 at 9pm UTC | Apply to the inroads LAC Abortion Justice Circle |
| June 1-15 2023 | Member input phase (expression of interest in session proposals) |
| June 1-30 2023 | Application reviews and Funding Assessment |
| July 1-15 2023 | Selected and Funded Participants Notified and Contract Signed |
| July 15- August 15 2023 | Selected and Funded Participants purchase tickets, lodging and visas |
| August 15- September 15 2023 | Virtual co-creation of session plans based on proposals and agenda |
| September 24 2023 | All participants arrive in Colombia |
| September 25-27 2023 | inroads LAC Abortion Justice Circle in Bogota, Colombia |