inroads Latin American and Caribbean Abortion Justice Circle - a members regional gathering.
The International Network for the Reduction of Abortion Discrimination and Stigma (inroads) is excited to announce the Latin American and the Caribbean (LAC) in person, regional gathering of members!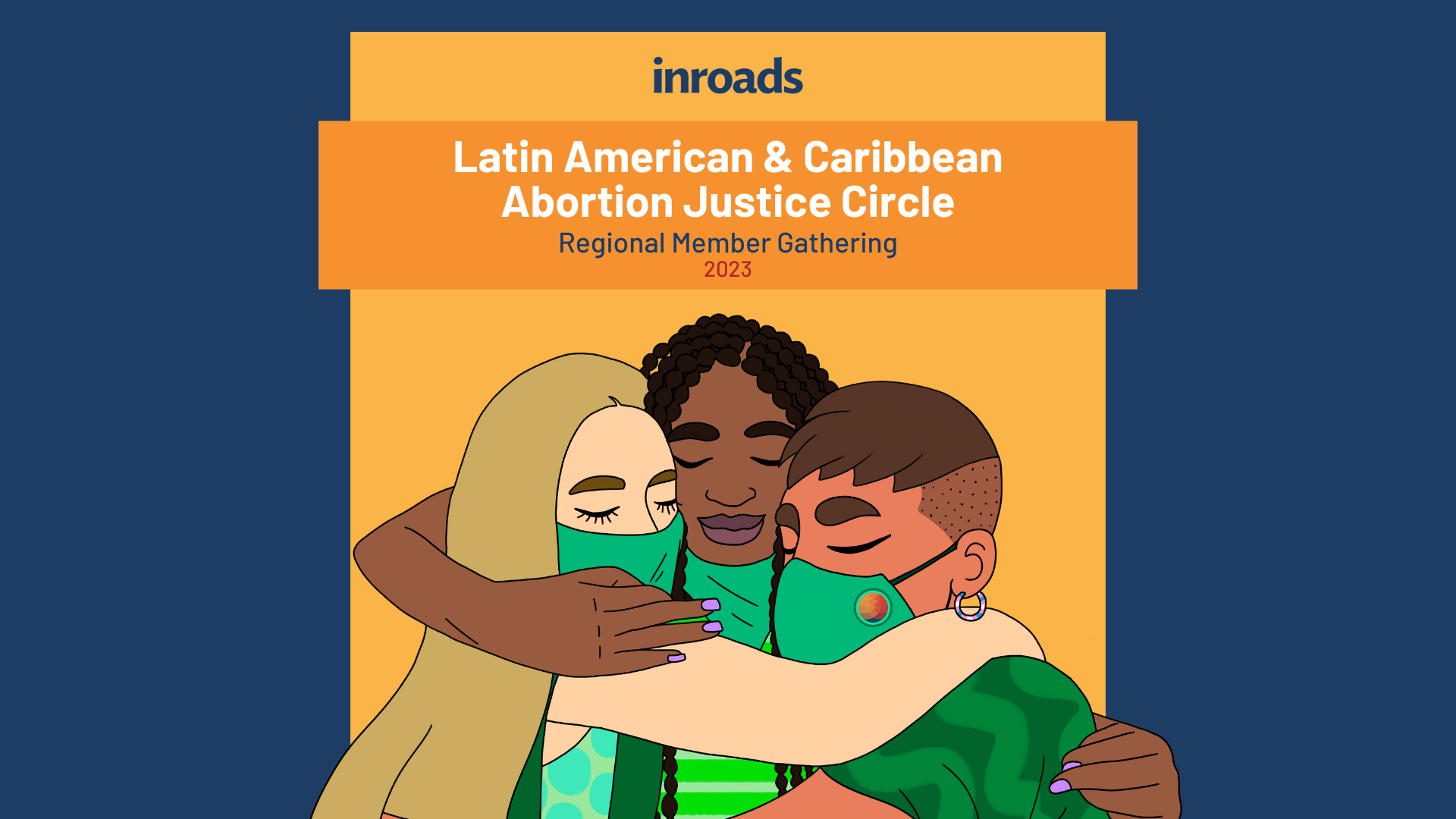 The Latin American and Caribbean Abortion Justice Circle will be a 3-day long intimate gathering with members working on intersectional areas of abortion stigma in Latin America and the Caribbean. The gathering will be held from 25-27 September in Bogota, Colombia.
As with all inroads gatherings, we will have a collaborative facilitation and a co-created agenda, bringing all members attending together in the process of planning and guiding the space with input from their diverse contexts.
Applications are now closed!
ESPAÑOL: Selecciona tu idioma en el botón en la esquina superior derecha. Funciona mejor con Chrome, Mozilla, o Edge.
PORTUGUÊS: Selecione o idioma no botão no canto superior direito. Funciona melhor com Chrome, Mozilla, ou Edge
FRANÇAIS: Sélectionner la langue sur le bouton dans le coin supérieur droit. Comment end Cela fonctionne mieux avec Chrome, Mozilla ou Edge.
BACKGROUND
In recent years, movements for abortion justice in the LAC region have generated a lot of strength, interconnection and successes—from abortion decriminalization in Mexico, Colombia, and Argentina to deepening abortion accompaniment practices, cross-border networks, and a proliferation of narrative transformation work around abortion. At the same time, regressive forces, growing fascisms and fundamentalisms, and morphing versions of anti-abortion forces continue to create barriers that the abortion justice movement must actively contend with. Moreover, the intersectional stigma around queer abortions, self-managed abortions, second-trimester abortions, disability and abortion, race and ethnicity within and outside our movement, and more continue to be barriers to access and challenges in the path to social decriminalization. Unfolding from a pandemic, there are feelings of isolation, burnout and disconnection that many activists, collectives and networks are facing. In these ways, weaving together a movement for bodily and territorial autonomy, care, and liberation is a present and emerging necessity!
Within the inroads network, gathering and coming together plays a vital role in our work to connect, build relationships, strengthen our sustainability, and power our collective agenda. Gathering in person (beyond our virtual gatherings) is a source of magic, energy, and transformation in our abortion stigma-busting worlds. At inroads, in-person gatherings are safe spaces that we have witnessed, held, and experienced multiples times, where the energy to keep on the good fight is replenished, where a sense of community is deeply rooted, and where we are able to deeply reinforce how justice is indivisible and creating supranational alliances is key. They are also spaces where we value and uphold the rest, care, and pleasure of stigma-busters across the world!
GOALS AND PRINCIPLES OF THE ABORTION JUSTICE CIRCLE
The abortion justice circle in the Latin America and Caribbean (LAC) region hopes to build, foster, and nourish relationships between people, their experiences, and practices across diverse socio-political, cultural, and linguistic contexts within the same region.
The goals for this gathering include:

To share and build collective consciousness of contexts and emerging forms of stigma and to identify trends, convergences and differences within them
To mutually learn from stigma-busting practices within the region that are working towards the social decriminalization of abortion
To strategize towards an intersectional and collective abortion justice movement, particularly across language and cultural differences in the region
To build spacious solidarity and alliances across new geographies after the isolation of the COVID-19 pandemic
To foster and co-create a space of collective rejuvenation, celebration, and joy in abortion justice efforts

The principles of inroads in-person gatherings are:

rooted in community
participatory
mutual-learning and relationship-centered
safe and brave
honoring our collective wisdom
caring and accessible
DETAILS ABOUT THE APPLICATION REVIEW PROCESS
Basic Criteria & Eligibility Review
That the individual applying is a member of inroads prior to April 30, 2023, or is a recent inroads member from Colombia.* .
That the individual applying hails from and/or lives and/or has a significant part of their work grounded in the Latin America and Caribbean (LAC) region.
Has answered with the minimum detail suggested for the gathering application.
Non-stigmatizing and inclusive language
Has the time commitment to travel and attend the gathering in full
*To honor the host country and strengthen relationships with the local abortion justice community, Colombian abortion activists living in the country are able to apply to attend this gathering regardless of their membership start date. If you are an interested Colombian activist, apply to join inroads here and to attend this gathering with the application form for the gathering until May 31, 2023.
Secondary Review of Session proposals by inroads staff
Inroads staff will carefully review all applications to the gathering for the following criteria:
WHO?Based on the experiences and contexts this person brings with them, will this person benefit from being at an inroads in-person gathering and will other members benefit from their being there? NOTE: We are not looking for the people with the most "expertise" or just experience level, however, folks who are asking questions that are important to our larger abortion stigma-busting community.
WHY?The personal learning and unlearning goals of the applicant
WHAT?The topic and summary of the session proposed (and their relevance to intersectional abortion stigma busting and justice work)
HOW?The creative and innovative methodologies proposed to carry out the session
Note: Funding needs will not play a role in the Primary or Secondary review and all applicants will be reviewed using the same criteria regardless of needs.
Final Review
A final tally and collection of comments of applications will be reviewed by the inroads team. The top rating applications will be discussed and steps will be taken to account for any applications that could have been under or over rated.
Funding Assessment and Review
It is in the final review stage that Section 3 of the application form will be looked at i.e. Your Funding Needs. We ask that you choose specifically what kind of funding you would need. We ask that each applicant does an honest review of their financial situation, keeping in mind their own position as well as their own organizational capabilities to fund their participation, and to apply for the funding type that best suits. We hope that in this way, inroads is able to bring together a diverse and supported group of abortion community care and justice workers in the region.
Going into this process, we know that having to select only a specific number of people for funding, when what we need is the ability and freedom to convene a humongous gathering of stigma-busters, is difficult. In an ideal world, we hope to be able to support everybody's travel, participation, and attendance. We acknowledge that the process and decision of selection does not take away the value and power of any proposal submitted to us.
To prepare for the application, we invite you to review and start gathering the information detailed in this Q&A.
Please note that this inroads gathering has a registration fee of 150 USD, payable after the funder participants selection process is completed on July. People can request funding support to waive it in the application funding needs section.