A regional gathering of over 60 members of the International Network for the Reduction of Abortion Stigma and Discrimination leading vital abortion justice efforts in the region!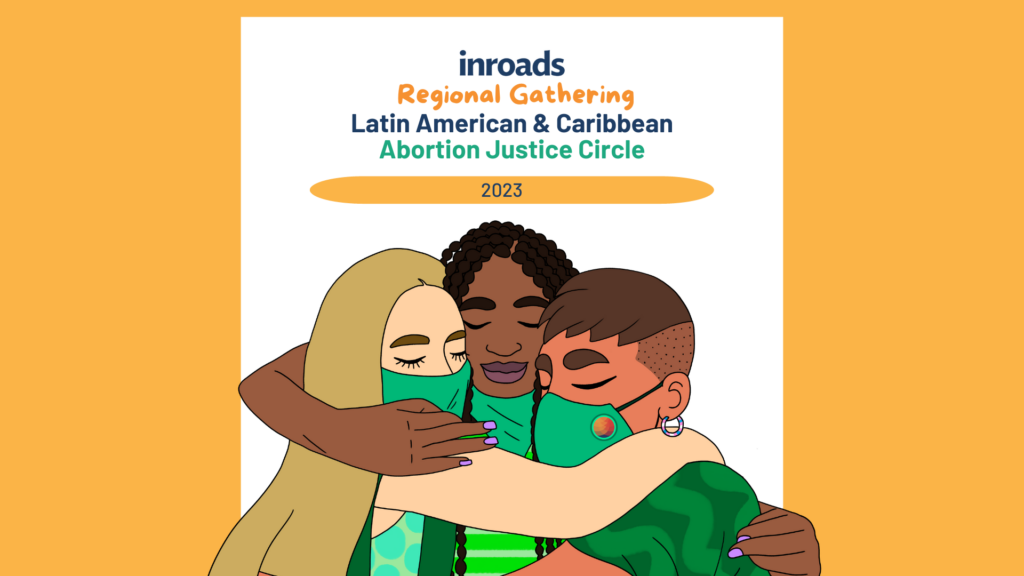 We envision a world where abortion care is centered around the needs, experiences, and leadership of those who have abortions, and where stigma, fear, and misinformation about abortion can be eradicated through collective culture change to eliminate abortion stigma.

Within the inroads network, gathering and coming together plays a vital role in our work to connect, build relationships, strengthen our sustainability, and power our collective work. Gathering in person is a source of magic, energy, and transformation in our abortion stigma-busting worlds. At inroads, in-person gatherings are safe spaces where the energy to keep on the good fight is replenished, where a sense of community is deeply rooted, and where we are able to deeply reinforce how justice is indivisible and creating supranational alliances is key.
We are happy to hold this space co-created by and for our community to keep making inroads on abortion stigma for a happier, healthier, and more just world!
Learn more about the powerful and diverse spaces and sessions that comprise this gathering!
Each session was facilitated by inroads members representing over 60 abortion justice organizations and collectives from the region. We are not publicly sharing some of the names or sessions for security reasons.
DAY ONE OF THE GATHERING
Plenary panels
Learning from the Colombian abortion justice context | Facilitated by: María Cecilia Ibáñez (Women's Link and Causa Justa), Raquel Mendoza (Mujeres Tiempo de la Unión), Laura Camila (Las Jacarandas), Yela Quim (Las Parceras). Moderator: Lucía Berro Pizzarossa (Women Help Women).

Trans abortion narratives: from a trans perspective and queer approach | Facilitated by: Yawar Castellón (Hombres Trans Diversos de Bolivia), Saint (WE change Jamaica), Ale Mujica (Juntes), Eliana Riaño (Libres- Organización Lesbofeminista). Moderator: Antonella Barone (Juntes)
Reflection and action: Feminist accompaniment
Accompanying from the territories 📵
Facilitated by: Rosa Mosketa y Valentina Maldonado Oyrazún (Red Maule Sur)

Self-managed abortion: Building the sustainability of the movement 📵
Facilitated by: K (Women Help Women), Camila Ochoa Mendoza (Abortion with Love) y Lucía Berro Pizzarossa (inroads Board)

Who accompanies the companions?
Facilitated by: Valeria García Gaona (Red por los derechos sexuales y reproductivos en México) & Pamela Tapia Trasviña (Ayuda para Abortar)
Strategizing: Stigma-busting Communications
The horizontal, collective, and collaborative construction of activist communication | Facilitated by: Majó Corvalan (Campaña Nacional por el Derecho al Aborto Legal, Seguro y Gratuito) & Milagros Olivera (Serena Morena)

Moving without stigmatizing, the communication challenge facing the stories of women criminalized for abortion| Facilitated by: Veronica Vera (Las Comadres y Surkuna) and Oriana Lopez Uribe (RESURJ)

Strategies for social decriminalization, legal abortion, and after what? | Facilitated by: Akola Thompson (Tamukke Feminists), Johana Karis (Todas Jevas)
Networks and resources to strengthen our movements
Trust-based resourcing: a reflection on dynamics of power in financing | Facilitated by: Laura Gutierrez (SAAF)

Together we are Stronger: collaborating, building relationships and weaving alliances| Facilitated by: Nina Zamberlin (Fos Feminista), Laura Andrade (Ipas), Oriana Lopez Uribe (RESURJ)

Building a global day to destigmatize abortions | Facilitated by: Mariana González Cedraro (inroads)

Arts and Community Care
The power of sharing our stories: Letter to the person I was | Facilitated by: Monserrat Navas Borja

Trans Expressions: multiple bodies | Facilitated by: Mon González Suárez (Voces Fieras)

Karaoke for Abortion Freedom | Facilitated by: Yela Quim (Las Parceras) y Lilo Lara (artivist)
What do you need to feel cared for? Permanent Art & Community Care Space | Facilitated by: Roxana Mancilla (Di Ramona)

DAY TWO OF THE GATHERING
Plenary Panel
Fighting the stigma of abortion in restrictive contexts 📵
Facilitated by: Venus, Cynthia, Malena, Karina. Moderator: Sara García Gross.

Reflection and action: centering the margins
Interconnections between sex work and abortion in Costa Rica | Facilitated by: Fernanda Gutierrez (ACCEDER)

Body and territory: An embodied approach to trans-inclusive abortion care |Facilitated by: Eugenia Lopez Uribe (IPPF) y Elise Denis-Ramirez (Open University)

Access barriers for indigenous, rural, and victims of the armed conflict |Facilitated by: Raquel Mendoza Ruiz (Mujeres Tiempo de La Unión)
Arts and Community Care
Deconstructing the stigma around abortion: your own diagram |Facilitated by: Lina Lopez (AbortionData.org)

Fiction stories (or not) of happy and diverse abortions. | Facilitated by: Erandini Alvarado Villegas (Red Asaleas)

Artivism: Painting Posters for September 28 |Facilitated by: Mariana Gonzalez Cedraro (inroads)
Strategizing: Learnings from the process
Conscientious objection when having abortions: Dr. Dora Lamaltratadora | Facilitated by: Florencia Sabaté (Fundación Mujeres por Mujeres)

Carnival abortion advocacy and dancing for desired maternity: Creating an abortion carnival block 📵 | Facilitators' names are restricted for security.

Ideas for online abortion care | Facilitated by: Noelia Gomez (safe2choose) & Shisleni Oliveira (Women First Digital) + Natalia Galeano (Hesperian Guias de Salud)
Workshops
Research for systems and social change | Facilitated by: Katherine Key (Ibis) y Lina Lopez (AbortionData.Org)

Spaces for the development of an abortion experience to eradicate stigma 📵| Facilitated by: Mariana Maneiro Brumlik (FaldasR), Irene Patricia (Reflexión y Acción Feminista)

Comprehensive Feminist Protection | Facilitated by: Carla Vitoria y Metzeri Ixchel (Marea Verde Totonacapan)
Exchange and Arts Festival
An exchange villa where participants were able to share their work, arts, projects, and more.
Followed by live music, performances, and films.
Music by Yela Quim and Lilo Lara.
Short films by Milagros Olivera, Monserrat Navas and Irene Patricia.
Poetry by María Antonella Barone.
Find pictures from the Festival in the Facebook Album here.
DAY THREE OF THE GATHERING
Plenary Panel
Decolonizing and Autonomy for Abortions: Challenges and voices from feminist accompaniments 📵
Facilitated by: Rocio (Las Kumpas), Sandra (Necesito Abortar), Adriana (Las Caracolas), Anny (Tertulia Feminista Sur). Moderator: Mel Bleil Gallo,
Closing sessions and rituals
Reflecting and Closing the Circle in Community | Facilitated by: inroads team.
Closing Ritual: Tending the Flame | Facilitated by: Lisandria and Alejandra Alvarado (Colectiva BeRadFem Xela)
Community field trips: led by local collectives to learn more about the Colombian feminist abortion justice movement. Facilitated by Jacarandas and Libres – Organización Lesbofeminista.
Check out a recap with pictures from the sessions below!
Find all these pictures and more in the official Album on Facebook.
Check out our new article with the key insights from the planning of this space to make it a safe, inclusive, and transformative gathering for collective power building, including quotes and feedback from participants illustrating their experiences within the gathering.