Meet the 12 powerful projects and collectives inroads is supporting and partnering with our Bloom and Pollinate seed grants in 2022-23!
They are a diverse group of initiatives from fearless grassroots organizations dedicated to advancing stigma-free abortion access, representation, research, and education in their communities. They were selected at the end of 2022 and will carry out their projects in 2023.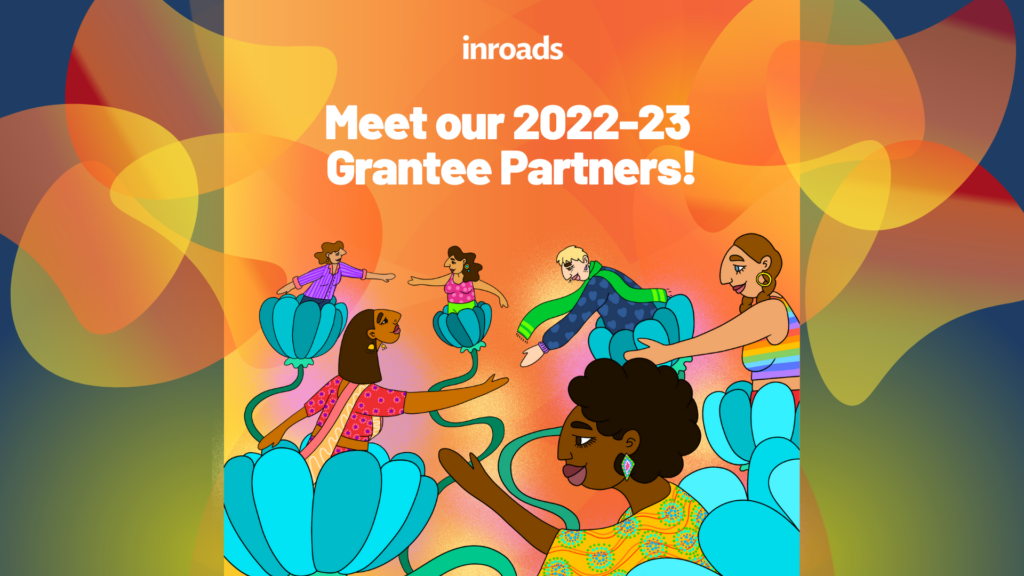 Hashiya Socio-Legal Centre for Women – India
Hashiya Socio-Legal Centre for Women is a feminist organization working on SRHR and the legal rights of marginalized women.
With the support of the inroads seed grants, they aim to carry out the project We Choose – enabling communities to access stigma-free abortion services, working with a Community Health Centre located in a densely populated community in Jharkhand, India. They aim to gather vital abortion provision information using diverse research practices and engaging front-line workers and women and girls from the community, to later create resources for conducting training sessions for frontline workers and interactive awareness sessions with the community, with the central focus being stigma reduction.

Serena Morena – Peru
Serena Morena is a feminist collective that informs and accompanies women, trans and non-binary people in abortion situations around Peru. In addition, we carry out creative pedagogies linked to eradicating sexual violence, gender violence, sexual harassment, and stigma around abortion, among others.
"Tsanwa means freedom in the language of the Kukama-Kukamiria indigenous community. In the history of our country, the wisdom of indigenous peoples related to reproductive processes has been made invisible by the West." Shared the Serena Morena team.
With the support of the inroads seed grants, they aim to produce Tsanwa: An Indigenous Dictionary of Abortion, a pioneering initiative that seeks to reconstruct the wisdom around the words, meanings, and strategies that indigenous peoples use to name the abortion process. Through a community process of exchanges and learning in situ, hand in hand with feminist linguists and indigenous communicators, we will record the words, meanings, and contexts that abortion has in the Kukama-Kukamiria, Kichwa community, among others.
Movimiento feminista por la Accesibilidad Universal (FEMACU) – Chile
El Movimiento Feminista por la Accesibilidad Universal (The Feminist Movement for Universal Accessibility) is an organization that operates in various regions of Chile, with the focus of eradicating the stigma that exists on sexual and reproductive rights in people with disabilities. Their activism has anti-ableism, transfeminism, and anti-speciesism as its main ideals.
With the support of the inroads seed grants, they aim to produce a practical stigma-free safe abortion support guide centering the support needs of pregnant people with sensory disabilities (deaf people, blind people, and people with low vision) and with neurodiversity.
"There is a great stigma in communities with disabilities in relation to the experience of sexuality; many times, it is believed that people with disabilities are asexual and do not feel pleasure or have no right to it. From this perspective, it is impossible to think that people with disabilities gestate, get pregnant, and also abort. It is, in this same paradigm, from where the feminist collectives that work on abortion in this territory have positioned themselves to generate abortion protocols that address the needs of normally functional pregnant bodies, not counting within this, the specific needs of people with the ability to gestate who have a disability. This is why it becomes fundamental, and at the same time innovative, to build a guide with the specific needs of accompaniment that a person with a disability requires to abort in accessible and safe conditions." shared the team from FEMACU.
ASSOCIATION S.O.S FEMMES DU CONGO – Congo
L'Association S.O.S Femmes du Congo (The Association S.O.S Women of Congo) is an organization of young feminists who campaign for the education and social support of women.
With the support of seed grants from Inroads, they aim to launch a helpline, to provide access to non-stigmatized information about abortion. The goal of the hotline is to reduce the stigma that exists around abortion.
Media, Health and Rights Initiative of Nigeria-MHR – Nigeria
Media, Health and Rights Initiative of Nigeria (MHR) is a media, human development, and learning organization, that uses digital advocacy and specialized content creation that impacts social justice and behavioral change. Since 2018, they have contributed to the social change and transformation of over one million young Nigerians in program areas delivering sexual reproductive health, gender-based violence, mental health, and economic inclusion interventions.

With the support of the inroads seed grants, they aim to develop "Out of harm's way – community spaces," a community project for feminists, allies, queer persons, people living with disabilities, abortion care workers, and other justice advocates to connect and share their experiences on abortion stigma. This strategic space will enable and amplify a safe place for reflection, mutual learning, healing, and identification of innovative methods to advance the shifting of harmful narratives. The project includes the production of a podcast featuring abortion care workers who have faced discrimination and anonymized stories of abortion experiences.
Rwanda Youth Voice for Change – Rwanda
Rwanda Youth Voice for Change (RYVC) is a non-governmental and non-profit organization established in 2009 by young people from Rwanda with the aim to promote better living standards for the young population. RYVC's mission is to build, empower and sustain a vibrant youth network through advocacy, coordination, and capacity building. RYVC mainly works with young people and marginalized populations, linking the provision of comprehensive sexual education with improved sexual and reproductive health and rights services.
With the support of the inroads seed grants, they aim to develop and test "A community Model to fight Abortion Stigma" among adolescent girls and Community Health Workers (CHWs) in rural communities to improve abortion information among adolescent girls through discussions using designed playing cards and toolkits. This project aims to gather information from lived abortion experiences to design and disseminate playing cards with stigma-busting abortion facts, myths, abortion laws, and service provisions to prompt discussion/dialogue among players.
Abortion Actually
Abortion Actually is a collective of 4 organizations working on abortion around the world.
With the support of the inroads seed grants, they will be editing, producing, and disseminating 10 stories about abortion processes that will be featured as short films and podcast episodes, and creating and sharing a toolkit on how to document one's abortion experience, and a guide documenting the process to gather and disseminate the stories including lessons learned and resources others might use to replicate this type of work. Additionally, they will be creating an online home for this type of abortion stories and resources worldwide and conducting training sessions for inroads members looking to do similar abortion stigma-busting documentation work.
"Conversations around abortion, often loaded with politics and emotion, rarely focus on the practical aspect of doing an abortion. Yet here in the simplicity of a womb expelling a foetus is normality and humanity. If people could hear and see more first-hand stories of what an abortion looks and feels like, women may find more confidence in their decision-making, people who do abortions may experience less fear and shame, and abortion narratives may come to reflect abortion as a normal bodily experience and medical practice. We want to hear more stories about what happens before, during, and after an abortion. We want to demystify the process by bringing these stories to the forefront." shared the team from Abortion Actually.
Asociación Ciudadana ACCEDER & La Sala – Costa Rica
ACCEDER is an organization whose mission is to promote effective access to Human Rights for women and LBGTI people, as well as other historically discriminated populations, with a theory of social change through strategic litigation, research, capacity building, advocacy, and communication campaigns.

La Sala is an organization that seeks to improve the living conditions of sex workers in Costa Rica—fighting for sex work to be recognized as work and to be able to count with labor rights like any other job.
With the support of the inroads seed grants, they aim to co-facilitate a sex worker convening, centering on reducing stigma around abortion and gathering sex workers' knowledge on safe abortion practices and post-abortion care, and to produce a paper on abortion as an occupational hazard for sex workers in Costa Rica, who are currently organizing around legal recognition of their work as work. The document would include lessons learned as well as a chapter on the legal recognition of their labor rights and the risks of the trade.
Faldas-R – Venezuela
Faldas R is an organization of young women, non-binary people, and sexual dissidence dedicated to generating advocacy, advocacy and research processes related to the sexual and reproductive rights of women, children and adolescents, and pregnant people in Venezuela, with special emphasis on access to safe abortion; to comprehensive and inclusive education; and to modern contraceptive methods.

With the support of the inroads seed grants, they aim to develop mutual learning, healing, and safe community spaces for FALDAS-R activists in the framework of internal co-care, as well as for activists from other organizations that carry out abortion accompaniment work. Within those spaces, they also look to promote processes of articulation with organizations of popular power (communes, community councils, community organizations, etc.) close to the space in order to exchange knowledge and build support networks that reinforce the security of our organization and reduce abortion stigma.
Anonymous – Restricted Country
Anonymous collective based in a country where abortion is restricted and criminalized. With the support of inroads seed grants, they intend to produce a project of political artivism that will include a musical repertoire of "abortionist" parodies of classic carnival songs, and will carry out performances in events and public spaces to contribute to the social and cultural decriminalization of abortion through humor and the celebration of autonomy of our bodies.
Anonymous – Uganda
A non-government organization that aims to increase knowledge and skills amongst adolescents and young people in the field of Sexual and Reproductive health, including abortion care and HIV care, through engaging and conducting relevant training and capacity building.
With the support of the inroads seed grants, they aim to develop training workshops about comprehensive abortion care, abortion stigma busting for university medical students, and nursing/midwifery students in their final year of study in the medical schools in Uganda. The project aims to nurture a new generation of safe abortion care providers free from abortion stigma.
Anonymous – Brazil
The team that composes this anonymous organization in Brazil, works for the democratization of information, seeking to pluralize the narratives about abortion of the abortive bodies that defy the norms of cis-hetero-normativity.
With the support of inroads seed grants, this organization seeks to develop the interpretation, translation and adaptation of informative and orientative material about the sexual and (non-)reproductive health of trans people, specifically with regard to their abortion practices. Aimed at health services, specifically at personnel working in the sexual and reproductive field, this Orientation Guide aims to collaborate in the implementation of abortion policies and practices, targeting trans and non-binary people.
This organization intends to adapt an Orientation Guide to the Brazilian context, translating it into Portuguese, which will enable the production of a trans-inclusive resource for providers of abortion services for trans and non-binary people in this country.
---
We received over 100 applications that were peer-reviewed using a participatory process. We are committed to reimagining traditional grantmaking practices to build participatory processes so that our community can define and determine a resource distribution that is aligned with their vision, goals, context, and needs. After all, they are the experts, and our commitment is to ensure they hold the power.
We feel very grateful and inspired to be part of a community with so many passionate and fearless individuals and organizations determined to do vital work to build a world free of abortion stigma. We thank every person and organization who shared their project idea with us. Unfortunately, we can only fund a small percentage of projects proposed despite receiving many strong proposals.
We invite donors to support the abortion justice ecosystem! Donate here to support inroads efforts to resource and support a network of over 2,000 fearless activists, artists, advocates, and community organizations dedicated to advancing stigma-free abortion in 119+ countries.
Together, we can keep making inroads on abortion stigma for a healthier, happier, and more just world.