Creative Storytelling Tools and Techniques for Destigmatizing Abortion
Posted January 18, 2023

by
The capacity-strengthening online training for inroads members, Creative Storytelling Tools and Techniques for Destigmatizing Abortion, was facilitated by Amrita (she/her), founder and creator of "Shades of Brown Girl, on November 10, 2022.
This session engaged with colour, metaphor, and monologue as creative storytelling tools for destigmatizing abortion experiences. Engaging participants in affective and embodied learning throughout the session.
Key objectives of the training:
To guide community advocates, healing justice facilitators, and knowledge mobilizers in affective and embodied explorations of storytelling tools and techniques for de-stigmatizing abortion
To equip participants with an introductory understanding of color psychology and storytelling techniques in abortion justice work
To acknowledge and hold space for the diversity and complexity of abortion experiences through community and creative care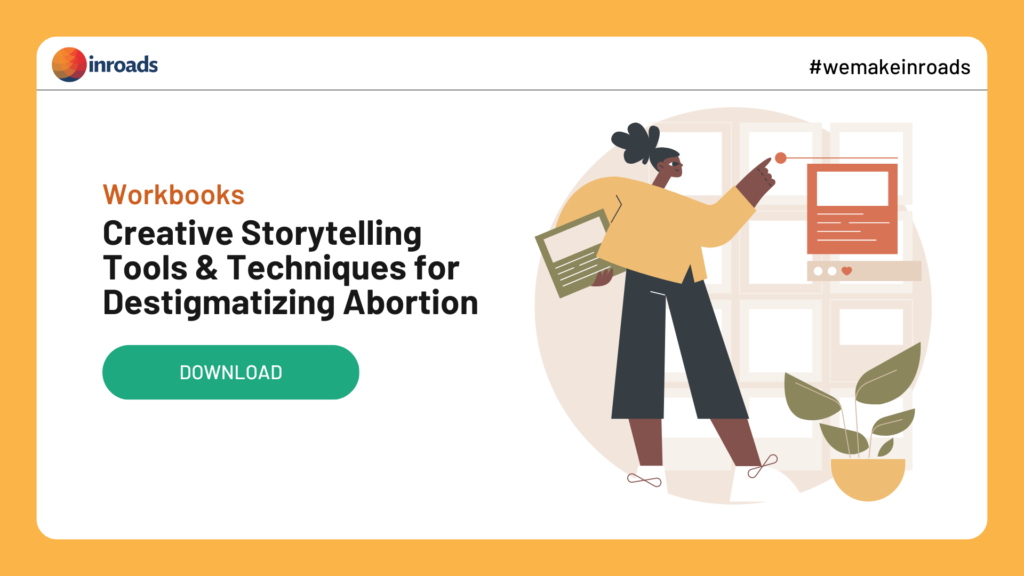 Workbooks
To facilitate the learning experience of all inroads members and the abortion justice community at large, we created a workbook version of the training materials that are available for download in English, Spanish, and French.
About the facilitator
Amrita (she/her) is a writer, creator, and community facilitator currently completing a PhD in Human Geography. Her work focuses on gender equity, diasporic experiences, and reproductive health and well-being. Amrita is the founder and creator of "Shades of Brown Girl," a creative storytelling and community healing space for diverse South Asian identifying women.
Join us
If you are not an inroads member yet, join today! Membership is free and open to all individuals and organizations working to dismantle abortion stigma.