Grantee Partner: Silent Thoughts Collective
Posted March 2, 2022

by
The Silent Thoughts Collective project that will be supported by inroads 2021 iPF Grants aims to provide training and support for traditional birth attendants. By the end of the project, traditional birth attendants should have more confidence, boldness, and resilience in offering abortion services and bringing out positive abortion stories in their communities. In the hope that they will become the voices of reproductive justice in their communities.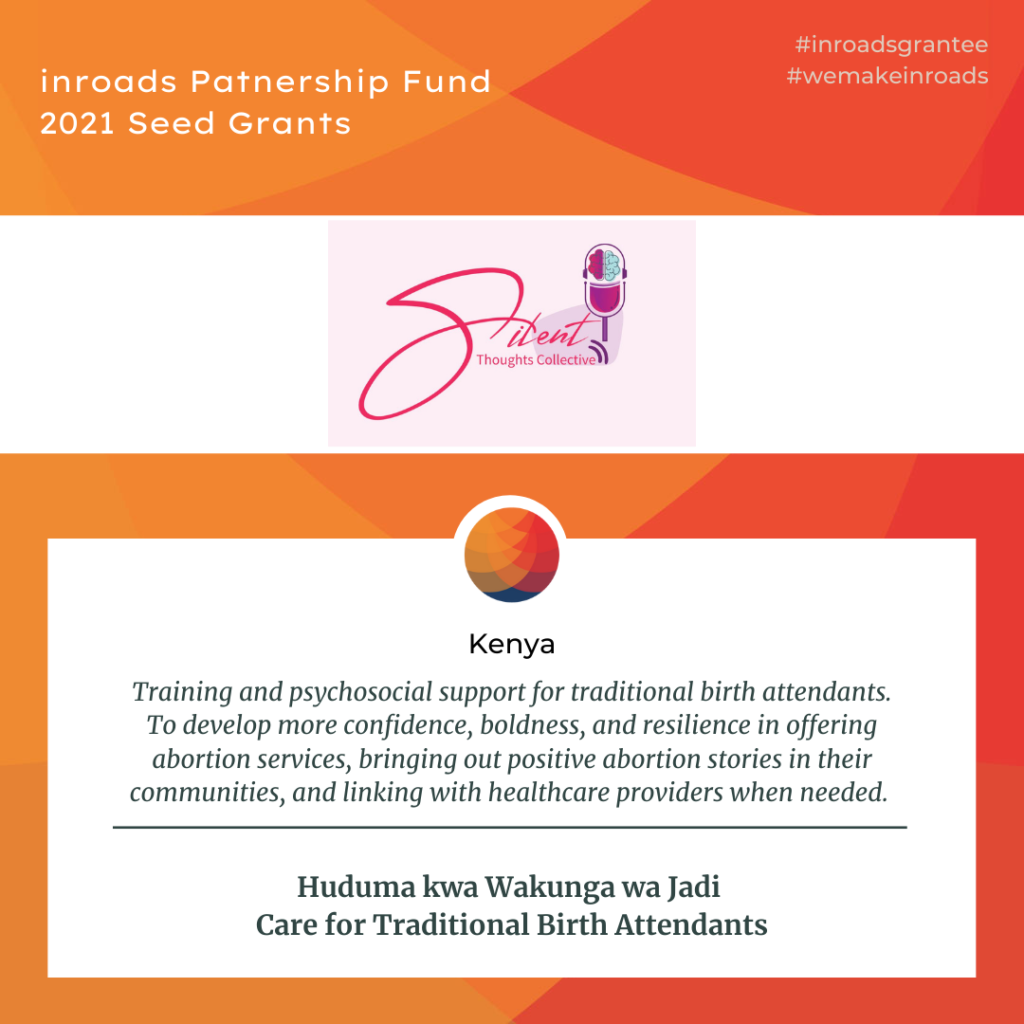 The team expects this project will help traditional birth attendants be more confident in building referral linkages with healthcare providers to attend to people who need specialized care during or after an abortion.
Read more about the project, as explained by their team, below:
Key activities:
Develop interactive and participatory sessions on what abortion stigma is, how it manifests, how to mitigate it, and its consequences in communities.
Engage healthcare providers who refuse to offer adolescents in rural areas abortion services but still shame traditional birth attendants who provide abortions, to bring an understanding of how abortion stigma is a barrier to essential healthcare service provision
The team behind the project:
We have 1 trained psychologist, 2 trained counselors, 4 community mobilizing agents, and community mentors who will work together to implement this project. The curriculum we propose to use has been developed by the psychologist in partnership with the counselors who have been working with a select number of traditional birth attendants and adolescents and young people who have had abortions and who are seeking abortion services. We have experience in organizing community activities. Our community mobilizing agents have gone through the interpersonal communication training (IPC) that teaches how to speak about abortion in stigmatizing contexts.
What results will be shared with the inroads community?
We plan to share lessons and findings through video clips and audios (showing before and after stories) that we will record with traditional birth attendants and the targeted health care providers as the project runs. We hope this can be uploaded on the inroads website.

How will they assess the project's positive impact?
We will have evaluations done in the form of surveys before the project begins to assess the input traditional birth attendants have had in advocating for abortion and abortion stigma reduction. Two more surveys will be done, mid-project and at the end of the project, to determine and assess knowledge and information on abortion and abortion stigma that has been shared through the traditional birth attendants.
We will also have evaluations targeting providers who have previously stigmatized traditional birth attendants to assess the stigma reduction rate.