The Colectiva por la Libre Información para las Mujeres (Collective for Free Information for Women) is a Peruvian feminist organization founded in 2009 with the goal to democratize access to scientific and safe information on abortion in Peru, a country where legal access to abortion is only allowed in case of a threat to life or health.

The project that will be supported by inroads 2021 iPF Grants aims to develop, in collaboration with organized medical students, a radio journalistic chronicle on the experiences of young and trainee health personnel challenging the stigma of abortion in medical institutions and in the healthcare field.
It will be a piece (between 20 and 30 minutes) to be broadcast on podcast platforms, social networks and spaces for training and student activism.
This radio piece prepared with a journalistic and feminist perspective will seek to:
1. Present in a critical way the ethical discussions and regulatory barriers that prevent health personnel from being able to provide care without stigma and without criminalization in abortion situations.
2. Amplify dissident voices and experiences in the health field that fight against the stigma of abortion.
3. Promote critical reflection of healthcare personnel –especially those in training processes- on their role in reducing the stigma of abortion, as well as their active involvement in improving the conditions of care for women and people with the possibility of gestation who require support and assistance.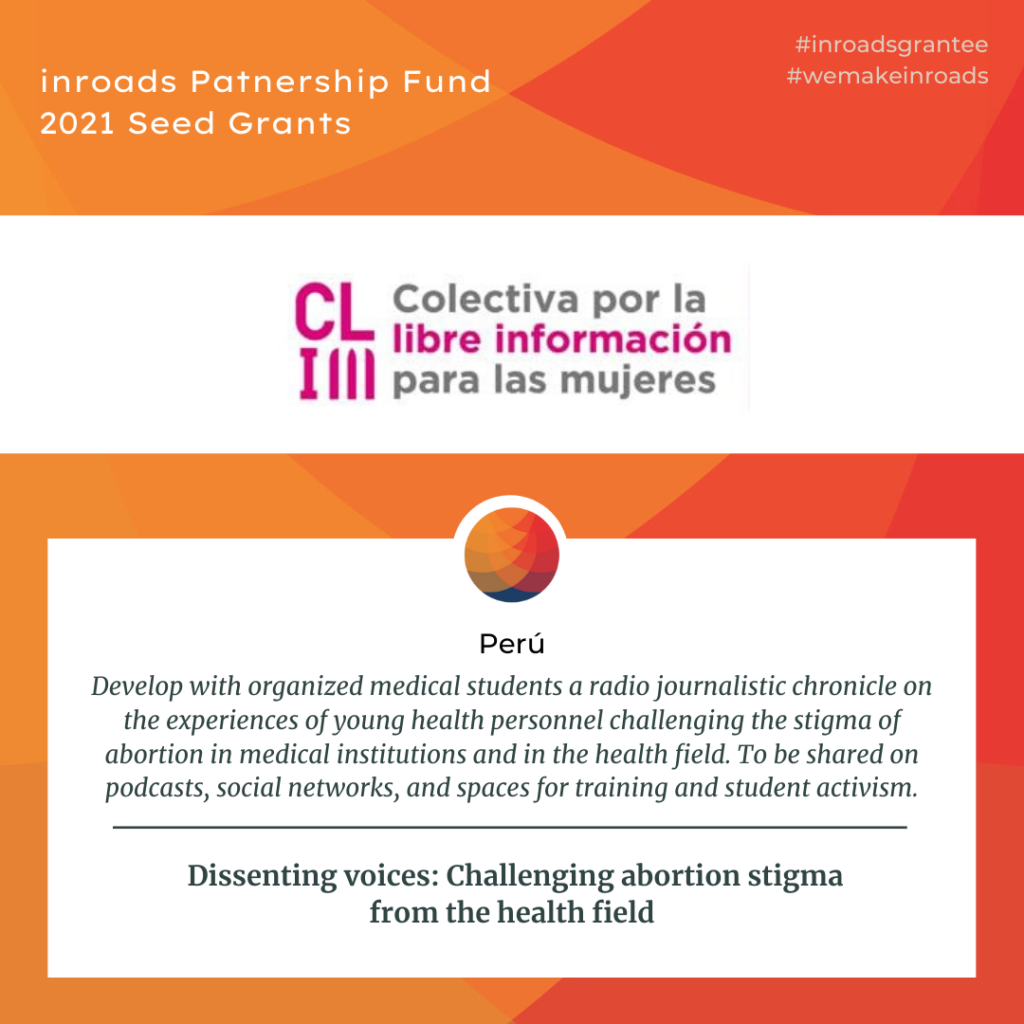 Key activities:
Virtual meetings with medical students and groups to define the focus and content of the piece.
Research, reporting and production of the episode.
Recording of testimonies.
Post-production: editing and sound design.
Dissemination of the radio piece through the podcast platform of Las Públicas, social networks of the Collective and groups of medical students.
The team behind the project:
We are an interdisciplinary team (communication, medicine, anthropology, political science) with diverse professional and activist experiences. We have been implementing projects since 2010 with financing and self-management activities. Since 2010, we have managed the Secure Information Abortion Line, and since 2020 the Las Públicas Podcast. Over the years, we have been working steadily on the implementation of strategies to democratize knowledge about abortion, the fight against the stigma and clandestine nature of abortion, and communications with a feminist and reproductive justice approach.
What results will be shared with the inroads community?
The radio piece (with a creative commons license) will be freely accessible – like all our products – and will be hosted on free digital platforms, which allows its free dissemination and download.
How will they assess the project's positive impact?
The proposed action will be evaluated based on the following monitoring and follow-up actions:
The reach of the radio piece among health personnel: We will follow up to find out the number of health personnel in training and active health personnel who had access to the radio piece through broadcast lists and virtual spaces for training and socialization.
Involvement of health professionals in training in production: We believe that enabling a process of collaboration and consultation with them is valuable to initiate changes that in the future may lead to longer and more sustained collaborations.
Opinions about the contents: We will seek to learn the opinions of the health personnel about the content and how it might have helped in the reflections on their role in reducing stigma, through a brief online survey.
Documentation of the usage of radio pieces by activists and health personnel in training spaces for medical students. We will seek to learn if it was used as a tool in activities aimed at reducing stigma and the fight for the decriminalization of abortion.
Measure the reach of the radio piece on social networks and podcast platforms.
Visit their website to learn more about their work!