Workbooks: Holistic Security for Abortion Stigma-Busting Work
Posted August 24, 2022

by
The capacity-strengthening online training for inroads members, Holistic Security for Abortion Stigma-Busting Work, was conducted by Kinga Jelinska and Ivette Mrova of Women Help Women on 23 May 2022.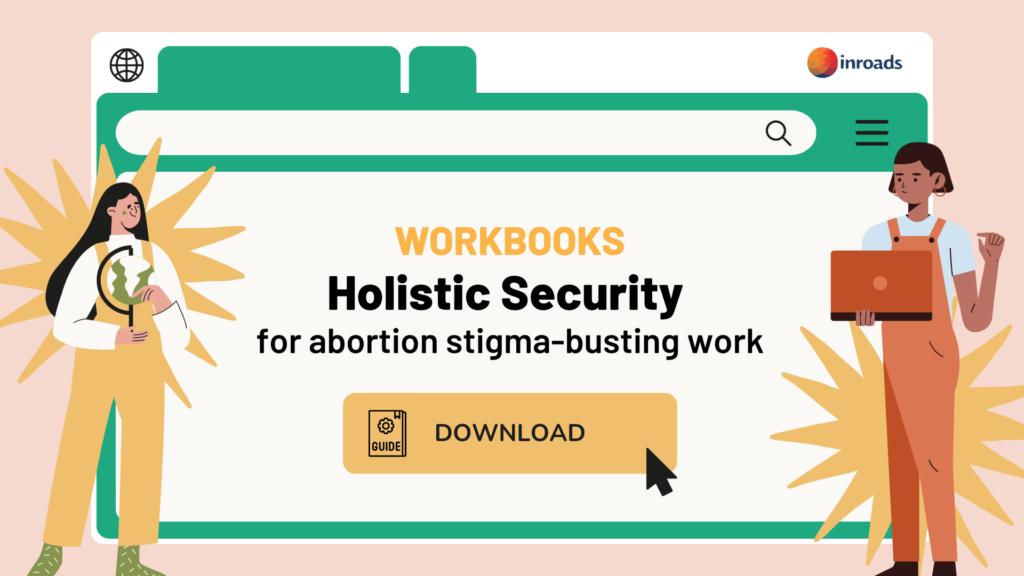 Through a participatory process guided by context-based self-knowledge and reproductive justice principles, inroads members who attended were able to strengthen their capacity for holistic security through the exploration of concepts such as:
The differences between security and safety
Understanding what holistic security is and its everyday importance
The importance of knowing your context in reproductive justice work
Conducting risk assessments to identify threats to security
Members were encouraged to actively participate in capacity-strengthening activities, such as conducting risk assessments for their reproductive justice organizations. This included steps such as:
Using a threat model to identify and rank potential security risks
Identifying one's own context through variables, such as identity and privilege
Analyzing the various safety dimensions of one's environment through a risk assessment activity and table
Creating an organizational security plan
Participants offered feedback after the training session on the importance and usefulness of the activities and learnings offered, considering the ever-heightening restrictions and threats towards abortion access and reproductive rights work around the world.
To facilitate the learning experience of all inroads members and the abortion justice community at large, we created a workbook version of the training materials that are available for download in English, Spanish, and French.

We strongly encourage inroads members to get involved in your own evaluation and capacity building of holistic security within your organization and community.
If you are not an inroads member yet, join today! Membership is free and open to all individuals and organizations working to dismantle abortion stigma.