Dopo is a community platform expanding abortion support and conversation to include self-care, community care, and healthcare – before, during, and after your abortion.
As of September 2020, it became compulsory for schools in England to teach age-appropriate relationships and sex education (RSE) to their students. This sounds great, but far too often, abortion is left out of the conversation.
The Dopo project that will be supported by inroads 2021 iPF Grants is seeking to change this by creating lessons and educational resources for different key stages, as outlined by the state education system of the United Kingdom, between the ages of 11 to 18.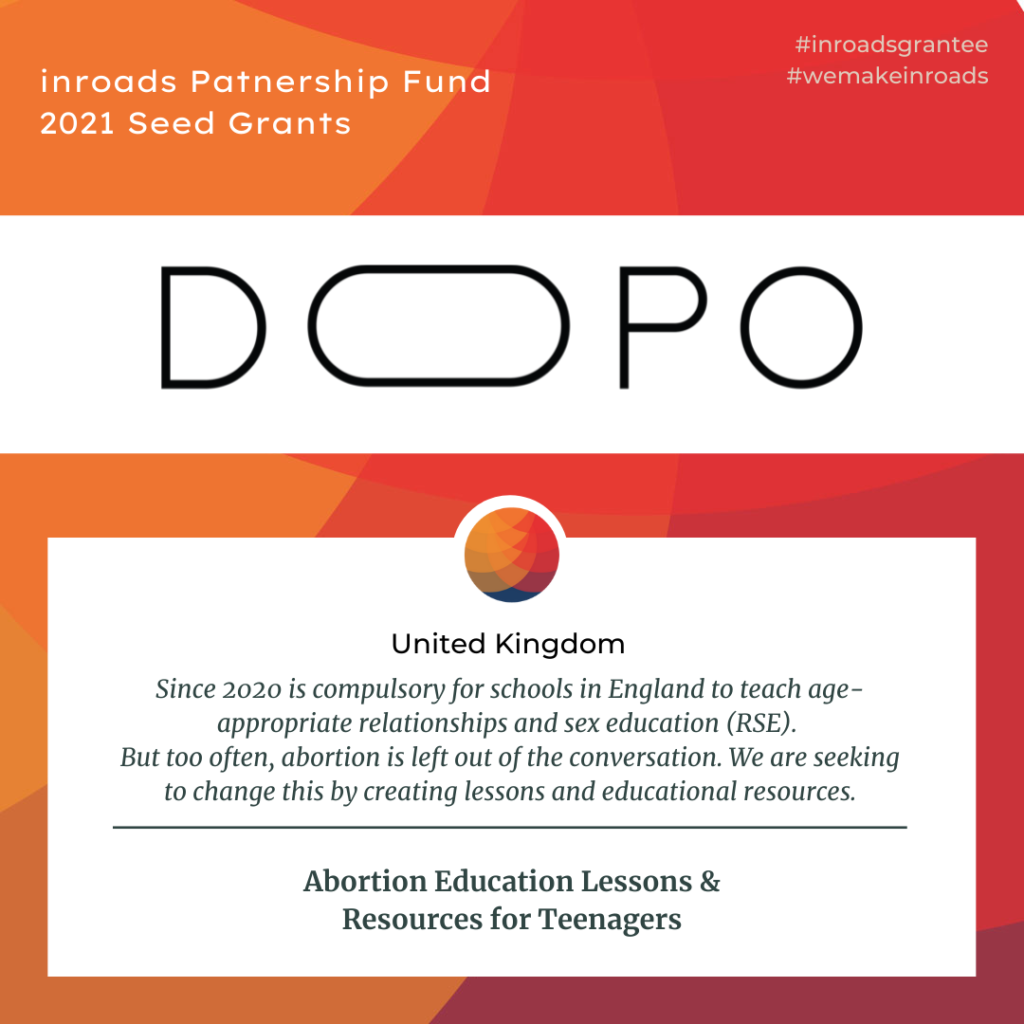 Key activities:
Create a series of lessons on abortion for each key stage and trial this in schools around the country. The lessons could also be run as full 3-hour workshops.
Each lesson will include:
A comprehensive lesson plan
Aims and objectives
In-lesson activities
Educational resources for teachers e.g FAQs, signposting for further support
Resources for students to support personal reflections and signposting of support.
Based on age groups, the lessons will include a range of the following topics, all with reproductive justice and antiracism principles at their core:
Defining and understanding stigma
Exploring and reflections on values
Abortion law
Types of abortion
Holistic abortion support
Talking about abortion
As part of the development of the lessons and resources, we will run focus groups to gather feedback from teachers and young people to ensure the content we create is age-appropriate, challenges stigma, and meets the needs of educators and students alike.
Once we have our lessons, we will then trial them initially with an inner-city school in London, a school in rural Exeter, and other networks of teachers and educators for free. The lessons learned from this will then allow us to begin offering these to other schools from September 2022, which is the start of the new academic year in the UK.
The team behind the project:
Emily – Full-spectrum doula and English teacher who will soon facilitate lessons on periods in her local schools. She has experience in developing age-appropriate curriculum, teaching, and expertly navigating the sometimes conflicting needs of the students and wishes of the school/teachers.
Zachi – Dopo Founder, Abortion Doula, and ACET UK accredited sex and relationships educator. She has experience developing training, resources, and curriculum around abortion and wider reproductive health experiences for a diverse group of individuals.
Carly – Abortion doula and author of "What's an Abortion, Anyway?", a new children's picture book about abortion care that will be released in Autumn 2021. Carly also has experience creating and evaluating curriculum and teaching.
Through combining our different skills and experience of abortion care and educating and engaging young people, we bring a spectrum of experience to tackling stigma and improving care and education.
Listen to Zachi talking about this project in the video below!
What results will be shared with the inroads community?
We will happily share our lesson plans and the scale we use to measure stigma in students before and after they have completed our abortion lessons with the inroads community. We would also be open to collaborating with anyone around the world seeking to adapt, create or create lessons and resources for the schools and educators in their local community.
How will they assess the project's positive impact?
Educators and young people will be involved in the development of all of the lessons and resources that we create to ensure that what we create is fit for purpose from the start.
Students and teachers will both be asked to complete a short feedback after each lesson to assess how beneficial/impactful/useful they found the content and if there are any gaps in their desired learning.
A longer (pre-post) survey will be carried out before our first lesson and after the conclusion of the third lesson to assess if their values around abortion and abortion stigma have changed at all.
Visit the Dopo website to learn more about their work!