Accompanying Self-Managed Abortions as doulas, hotlines, acompañantes.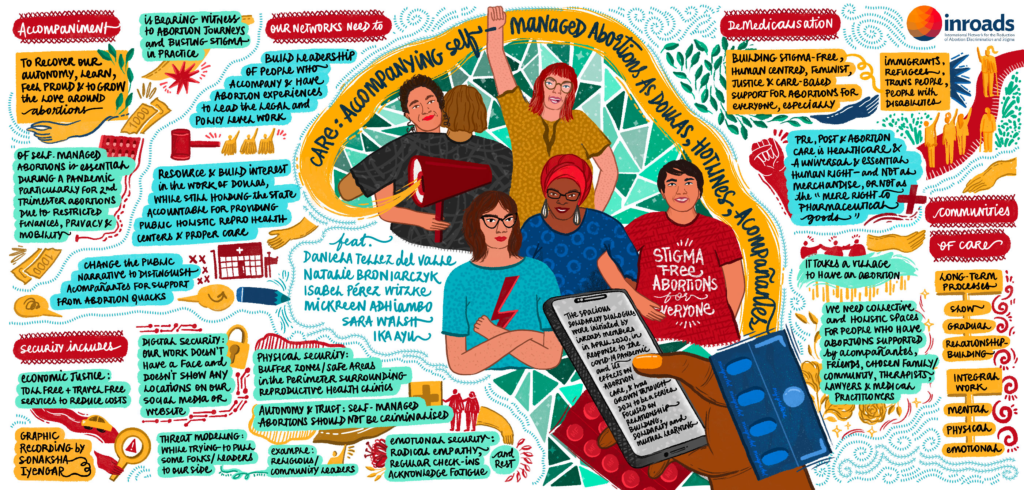 This is a graphic recording from the Spacious Solidarity Dialogues series by inroads. In the center of the image is an illustration resembling the likeness of some of the panelists looking directly ahead, appearing to be protesting and amplifying messages together.
On the top left of the illustration is a person with light skin and short cropped brown hair, wearing swirly earrings and red lipstick. They are smiling and are also holding a red megaphone with a swirl booming out of it that wraps the illustration with text capturing the title of the session: CARE: Accompanying Self-Managed Abortions as doulas, hotlines, acompañantes. This person is hugging another person with brown golden hair and tanned olive skin, wearing a grey patterned sweatshirt.
Next to them is another person with their hands raised in a fist. They are light skinned, wearing brown circular glasses, have shoulder length ombre red hair and are wearing a dark golden top with dots on it.
Ahead of them on the left is a person with light skin, reddish brown shoulder length hair, wearing cat eye spectacles and a light blue textured top. They have their hands crossed and one of their hands is in a closed fist. Next to them is a person with dark brown skin wearing a red-maroon head wrap, rectangular spectacles and grey and white earrings. They are in a dark blue top with a pattern of small dots and large circles on it. Their arms are intertwined with another person who has light skin, short cropped black hair with side bangs. This person is wearing a red patterned tee shirt that has the words ' Stigma free abortions for everyone' hand lettered on it.
In front of the them is a person with brown skin and orange nail polish holding a lit up grey and black mobile phone that has the following text on it:
The Spacious Solidarity Dialogues were initiated by inroads members in April 2020, in response to the Covid-19 pandemic and its effects on abortion care, and has grown through 2021 to be a series focused on relationship building, solidarity and mutual learning.
On either side of the person's hand are one strip of misoprostol in blue colour, with eight tablets and one strip of mifepristone in red colour with 5 visible tablets. The entire illustration is set against a mosaic of green triangles and stars. Next to the illustration, the panelists names are hand lettered: feat. Daniela Tellez del Valle, Natalie Broniarczyk, Isabel Pérez Witzke, Mickreen Adhiambo, Sara Walsh and Ika Ayu.
The graphic record is divided into 5 sections separated by dashed lines in light blue. The entire graphic record uses inroads' colours of red, maroon, dark blue, light blue, yellow and orange. Here's a list of the various points captured in the graphic record:
Accompaniment:
to recover our autonomy, to learn, feel proud and to grow the love around abortions.
is bearing witness constantly to abortion journeys and busting stigma in practice.
of self-managed abortions is essential during a pandemic, particularly for 2nd trimester abortions, as people have restricted finances, privacy and mobility.
Our networks need to:
Build leadership of people who accompany and have abortion experiences to lead the legal and policy level work
resource and build interest in the work of doulas, while still holding the State accountable for providing public holistic repro health centers and proper care.
change the public narrative to distinguish acompanantes for abortion support from abortion quacks.
Security includes:
economic justice: toll free and travel free services to reduce abortion costs
digital security: Our work doesn't have a face, and doesn't show location or any such thing on the website or social media.
physical security: buffer zones/safe areas in the perimeter surrounding reproductive health clinics
Autonomy and trust: self-managed abortions should not be criminalised.
Threat modeling: while trying to pull some folks, eg. religious or community leaders to our side.
Emotional Security: Radical empathy, Regular Check-ins, Acknowledge Fatigue and REST
DeMedicalisation:
Building stigma-free, human centred, feminist, justice and care- based support for abortions for everyone, especially immigrants, refugees, trans people, people with disabilities
Pre, Post and Abortion Care is healthcare and a universal & essential human right—and not as merchandise, or not as the "mere right to pharmaceutical goods.
Communities of Care:
"It takes a village to have an abortion"—We need collective and holistic care for for people who have abortions, supported by acompanantes, friends, chosen community/family, therapists, lawyers, medical practitioners.
Integral Work: Mental, Physical, Emotional.
Long-term Processes: Slow, Gradual, Relationship-building