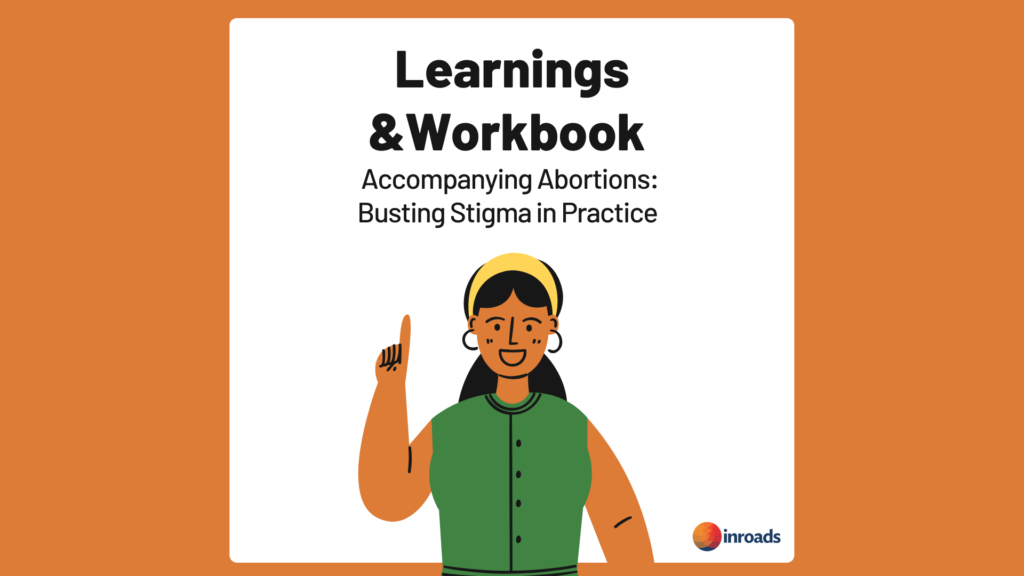 The inroads Global Abortion Accompaniment workshop was held on 15, 17, 18, 22, and 24 November 2021, over a total of 5 sessions. The sessions were conducted in English and Spanish, ranging from 1.5 to 2 hours, with 15 participants per session.
Member facilitators came from Di RAMONA (Mexico), Necesito Abortar (Mexico), Samsara (Indonesia), Abortion Dream Team (Poland), Dopo (UK/Italy and USA), and NAWIRI (Kenya). Inroads staff worked with member facilitators to conceptualize, plan, and design the workshop sessions, which built upon the learnings of each session, but could also be accessed independently.
The Global Abortion Accompaniment workshop centered around:
Busting stigma and breaking myths around medical abortions, while naming the power they have for self-managed abortions and community care.
Building upon learnings of stigma, identifying the multiple levels of abortion stigma which exist, and how they can impact abortion accompaniment.
Imagining and co-creating what future feminist-based companionship can look like.
Using self-exploration and reflection to encourage the self-care and boundary setting practices necessary to strengthen accompaniment practices.
Considering the diverse and overlapping settings and dynamics which occur within spaces of abortion accompaniment, i.e. The role of the traditional birth attendant (TBA) in rural settings.
Sharing the member facilitators' organizational, local, and national contexts of abortion accompaniment and stigma-busting.
Key takeaways from some of the main topics of the workshop:
On self-managed abortions and community care:
It is important to bust the gossips that surround self-managed abortions and instead build our community care practices and collective knowledge. When one looks at the history of autonomous abortions, we remember the parteras of Brazil whose plant knowledge helped identify misoprostol that is vital for abortions across the world.
On feminist-based companionship:
Creating feminist, stigma-free futures requires coming together to imagine and dream of what they can look like. The contexts surrounding abortion accompaniment are diverse and varied, but a feminist model of accompaniment uplifts abortion experiences through core values of creating trust, centering choice, inclusivity, and more. Feminist-based companionship believes that abortion should be available for everyone and can be done everywhere, with diverse methods and ways of access.
On levels of stigma:
Abortion stigma can be experienced on multiple levels, such as the individual, community, institutional, legal, and through mass media and culture. Lived experiences of accompaniment show innovation against these multi-levels of abortion stigma, such as crafting personal risk mitigation strategies in order to carry out the work of their companionship practices, and equipping others with the same for the future of companionship work. Destigmatization is a process, not a goal.
On boundaries:
Self-reflection is key to understanding our own needs, beliefs, and values as we carry out the work of accompaniment. By grounding ourselves with such self-knowledge, we expand our own capacity to support others with their own. Care does not move in one direction — just as we care for others, we also need to receive care. In this way, boundaries are not a way of keeping others out, but are a way of making space for our own safety, comfort, and needs alongside those of the folks we support.
On rural settings:
There is an urgent need to strengthen rural, community-based approaches to mitigate enabling factors for abortion stigma. Beyond restrictive and/or medicalized methods of abortion, the traditional birth attendant (TBA) offers a key role in rural settings where abortion accompaniment is a model of care. TBAs offer support, resources, and care outside of medical training, such as emotional support that is free from judgment, coercion, and tailored to the pregnant person's needs.
Workbooks
Each session of the workshop focused on building co-created spaces of learning between member facilitators and participants. As such, a participatory approach is embedded within the workshop materials, in order to encourage active learning and a diversity of responses.
We are including workbooks of the workshop materials in English, French, and Spanish to facilitate broader learning opportunities for your organization and/or abortion stigma-busting community.
Download workbook Part 1 here in English, Spanish, and French.
Download workbook Part 2 here in English, Spanish, and French.
Workshop Reflections
"[Accompanying] abortions IS love … Sometimes love is meeting people where they are. Every person has different needs when it comes to their abortion experiences, and meeting them where they are at is a form of love, in accompanying and supporting their abortion experience."


Amanda Bennett, Digital Defense Fund, USA
"Mapping, modeling, and envisioning a feminist future can be truly powerful — especially in socially-distanced times — what our collective strength can do to spread care and love in accompaniment is amazing."

Aditi Pinto, inroads, India
"In many ways, we would love to give someone the abortion of their dreams — giving someone the best possible abortion experience, especially if we live in a place where abortion is very restricted. But we also have to think about our safety, our relationships, our boundaries."

Karo & Nat, Abortion Dream Team, Poland
"Boundaries are the distance at which I can love you and me simultaneously."

Prentis Hemphil, 'Finding Our Way' podcast
"It's not only about the people in need but also about ourselves. We have to realize that this [accompaniment] is something that we also do for us."

Karo & Nat, Abortion Dream Team, Poland
"Care does not move in one direction — just as we care for others, we also need to receive care. In this way, boundaries are not a way of keeping others out, but are a way of making space for our own safety, comfort, and needs alongside those of the folks we support."

Zachi Brewster, Dopo, United Kingdom
"As acompañantes, we need to be aware that we might also hold some internalized stigma and keep working on deconstructing it. After facing part of my own stigma, I realized it is never about me, or my personal experiences. It is about centering the person we are supporting, their life, and experiences." 

Vanessa, Necesito Abortar, Mexico