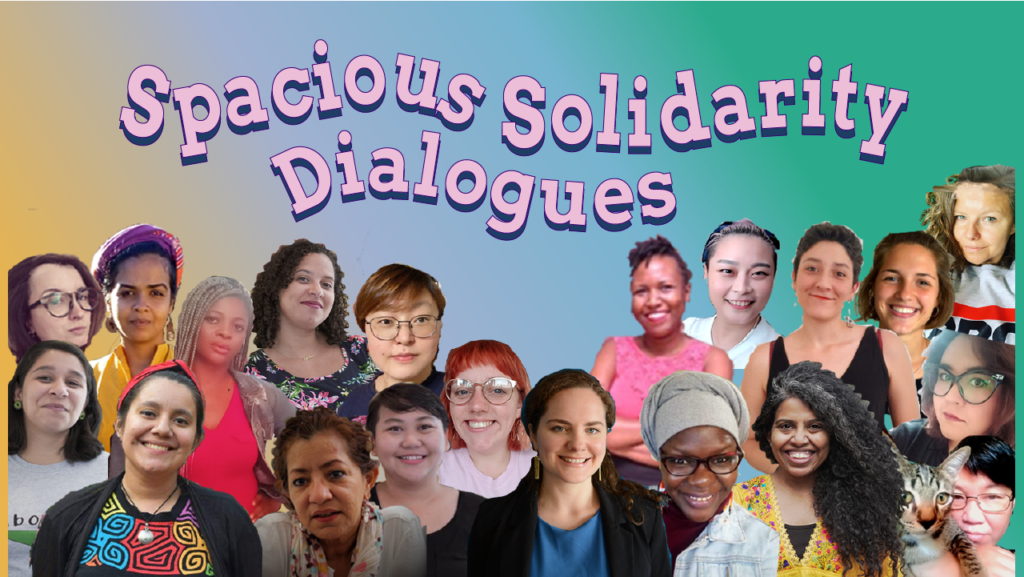 The Spacious Solidarity Dialogues were initiated by inroads members in April 2020, in response to the Covid-19 pandemic and its effects on abortion care, and has grown to be a series focused on relationship building, solidarity, and mutual learning.
In 2021 we had spacious solidarity spaces around 3 important themes. Here you can find a summary of the key takeaways and graphic records.
Beyond Legal Change
Reproductive Justice: Looking beyond Legal Change and Decriminalisation as community mobilizers, lawyers, and movement builders.
Inroads member panelists: Jasmine George, Rose Wakikona, Na Young, Sulaiporn Chonwilai, Genesis Luigi, Regina Fonseca, and Sara Garcia Gross.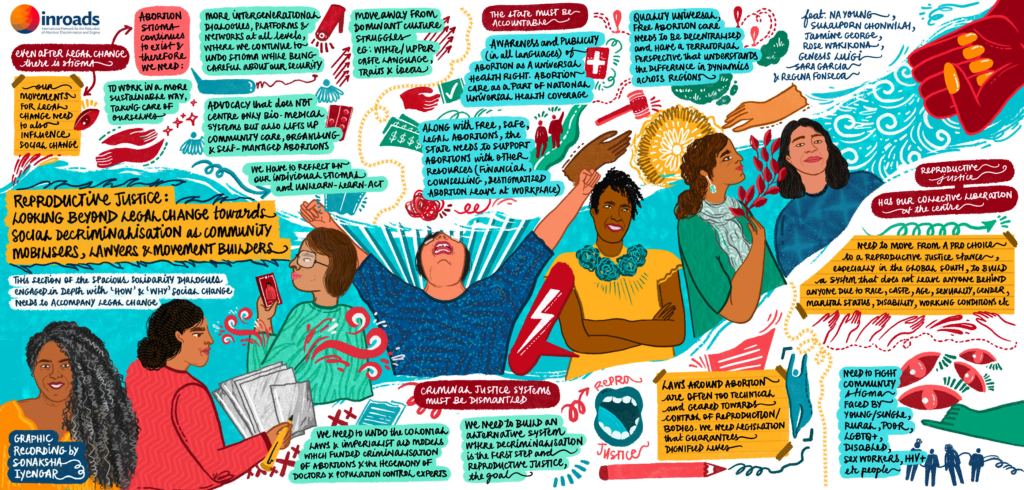 You can download this Graphic Record here.
Even after Legal Change, there is Abortion Stigma:
Our movements for legal change need to also influence social change.
Abortion stigma continues to exist and therefore we need:
to work in a more sustainable way, taking care of ourselves.
more intergenerational dialogues, platforms, networks at all levels, where we continue to undo stigma while being careful about our security.
advocacy that does not center only Bio-Medical systems but also lifts up community care, organizing, and self-managed abortions.
To move away from dominant culture structures, eg. white/upper caste language, ideas, and traits.
We have to reflect on our individual stigmas and unlearn-learn-act.
The State must be accountable:
Awareness and publicity (in all languages) of abortion as a universal health right. Abortion care as a part of National Universal Health Coverage.
Along with free, safe, legal abortions, the State needs to support abortions with other resources (financial, counseling, destigmatized abortion leave at the workplace).
Quality universal, free abortion care needs to be decentralized and have a territorial perspective that understands the difference in dynamics across regions.
Criminal Justice systems must be dismantled:
We need to undo the Colonial laws and Imperialist Aid models which funded the criminalization of abortion and the hegemony of doctors and population control experts.
Laws around abortion are often too technical and geared towards control of bodies/reproduction. We need legislation that guarantees dignified lives.
We need to build an alternative system- in which decriminalization is the first step, and Reproductive Justice, the goal.
Reproductive Justice has our collective liberation at the center:
Need to fight community stigma faced by young/single, rural, poor, LGBTQ+, disabled, sex workers, HIV + etc. people.
Need to move from a Pro-Choice to a Reproductive Justice stance, especially in the Global South, to build a system that does not leave behind anyone due to Race, Caste, Age, Sexuality, Gender, Marital Status, Migrant Status, Disability, Working Conditions etc.
Narrative Change
Sharing: Centering Narratives of People Who have Abortions as storytellers, listeners, podcasters, campaigners, researchers, and artistsInroads members panelists: Camila Ochoa Mendoza, Renee Bracey Sherman, Maja Dimitrijevic, Omodele Ibitoye, Kristine Chan, and Michelle Gallo.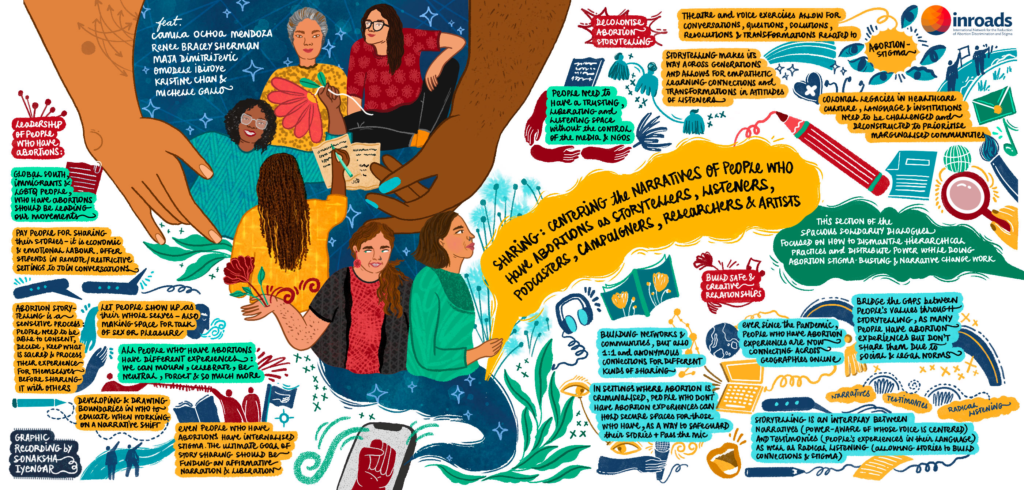 You can download this Graphic Record here.
Leadership of people who have abortions:
Global South, Immigrants and LGBTQ people, who have abortions, should be leading our movements
Pay people for sharing their stories – it is economic and emotional labor. Offer stipends in remote/restrictive settings for people who've had abortions to join conversations.
Let people show up as their whole selves – not limiting conversations to abortions but making space for talk of sex and pleasure.
Abortion storytelling is a sensitive process: People need to be able to consent, decide, keep what is sacred and process their experience for themselves before sharing it with others.
Developing and drawing boundaries in who to educate when working on a narrative shift.
All people who have abortions have different experiences- we can mourn, celebrate, be neutral, forget and so much more!
Even people who have abortions have internalized stigma. The ultimate goal of story sharing should be finding an affirming narrative and liberation.
Build safe and creative relationships:
Build networks and communities, but also 1:1 and anonymous connections for different kinds of sharing.
In settings where abortion is criminalized, people who don't have abortion experiences can hold secure spaces for those who have, as a way to safeguard their stories + pass the mic.
Ever since the pandemic, people who have abortion experiences are now connecting across geographies online.
Storytelling is an interplay between Narratives (Power-aware of who's voice is centred) and Testimonies (real people's experiences in their language), as well as Radical Listening (allowing the stories to build connections and bust stigma.).
Bridge the gaps between people's values through storytelling, as many people have abortion experiences but don't share them due to social and legal norms.
Decolonise abortion storytelling:
Storytelling makes its way across generations and allows for empathetic learning, connections, and transformations in the attitudes of listeners.
Theatre and voice exercises allow for conversations, questions, solutions, resolutions, and transformations related to abortion stigma.
Colonial legacies in healthcare, culture, language and institutions need to be challenged and deconstructed to prioritize marginalized communities.
People need to have a trusting, liberating, and listening space without the control of the media and NGOs
Community Care: Abortion Accompaniment
Accompanying Self-Managed Abortions as doulas, hotlines, acompañantes.Inroads Members Panelists: Daniela Tellez del Valle, Natalie Broniarczyk, Isabel Pérez Witzke, Mickreen Adhiambo, Sara Walsh and Ika Ayu.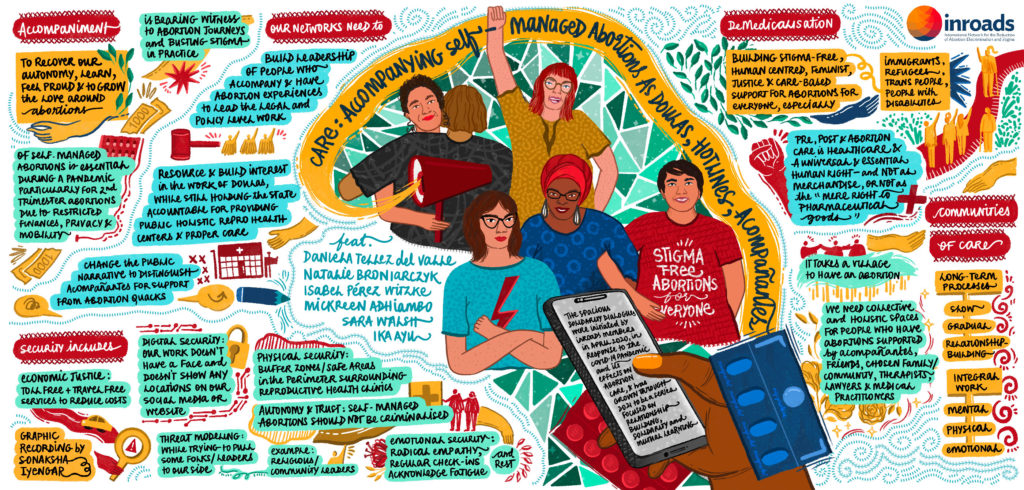 You can download this Graphic Record here.
Accompaniment:
to recover our autonomy, to learn, feel proud, and to grow the love around abortions.
is bearing witness constantly to abortion journeys and busting stigma in practice.
of self-managed abortions is essential during a pandemic, particularly for 2nd-trimester abortions, as people have restricted finances, privacy and mobility.
Our networks need to:
Build leadership of people who accompany and have abortion experiences to lead the legal and policy level work
resource and build interest in the work of doulas, while still holding the State accountable for providing public holistic repro health centers and proper care.
change the public narrative to distinguish acompañantes (companion) for abortion support from abortion quacks.
Security includes:
economic justice: toll free and travel free services to reduce abortion costs
digital security: Our work doesn't have a face, and doesn't show location or any such thing on the website or social media.
physical security: buffer zones/safe areas in the perimeter surrounding reproductive health clinics
Autonomy and trust: self-managed abortions should not be criminalised.
Threat modeling: while trying to pull some folks, eg. religious or community leaders to our side.
Emotional Security: Radical empathy, Regular Check-ins, Acknowledge Fatigue and REST
DeMedicalisation:
Building stigma-free, human centered, feminist, justice, and care-based support for abortions for everyone, especially immigrants, refugees, trans people, people with disabilities
Pre, Post, and Abortion Care is healthcare and a universal & essential human right—and not as merchandise, or not as the "mere right to pharmaceutical goods.
Communities of Care:
"It takes a village to have an abortion"—We need collective and holistic care for people who have abortions, supported by acompañantes, friends, chosen community/family, therapists, lawyers, medical practitioners.
Integral Work: Mental, Physical, Emotional.
Long-term Processes: Slow, Gradual, Relationship-building
Would you like to see the recordings of these Spacious Solidarity Dialogues?
Find all the recordings on our YouTube channel here.