The following is the third part of a photo and text series that moves through the major moments of the 3rd inroads Global Member Gathering (iGMG).
Every evening, the Steering Committee guided all participants through a reflection and group documentation of the day. We reflected and evaluated our work as individuals and in small groups. Members evaluated the day's work in creative ways: sometimes by writing down thoughts on sticky notes, by acting out emotions and reflections, and by interviewing each other to communicate thoughts and feelings.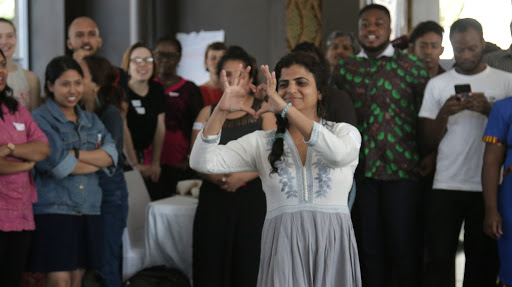 As the gathering was reaching a close, we did an evaluation at the level of our regions. On the last day, participants broke into regional groups for Regional Reflections that was focused around three questions:
What are the emerging ways around busting stigma in your region?
What are key learnings from this gathering that you want to take back?
How does being a part of inroads make possible for your work?
For the African members the inroads network strengthens and creates partnerships. In addition, the gathering allows people to connect, share tools and provide solidarity to each other. A new learning for members in the region is the importance of continuous healing for people with abortion experiences.
For the European members, alot of their work is focussed on three areas: decriminalization of abortion, 2nd and 3rd trimester abortions and travel for abortion. The inroads network provides a space of learning especially about doula work, full-spectrum anti-choice topics and specific exercises and tools to use in regional work. There is a feeling among members about the need to be more brave and more political in all of the stigma-busting work that members do.
The Asian members saw inroads as an important connection to support each other's campaigns and boost each other's work. At the same time, these participants felt the need to continue to connect at a regional and country level outside the space of the gathering. A new learning was around storytelling and creative arts.
The Latin American participants stated that it was important for the entire inroads networks to clarify the values of the network: especially the role of men in the network and stigmatizing language and imagery that continues to appear. In addition, it is necessary for inroads members to connect more with each other as a region and the Steering Committee regional member was a potential starting point to begin to work together.
For North American members, inroads is an important way to move beyond their regional minded-ness and learn from other places that often have better policies and methodologies. They stressed the importance of centering experience and also building an anti-colonial movement that works on issues of race, class, disability.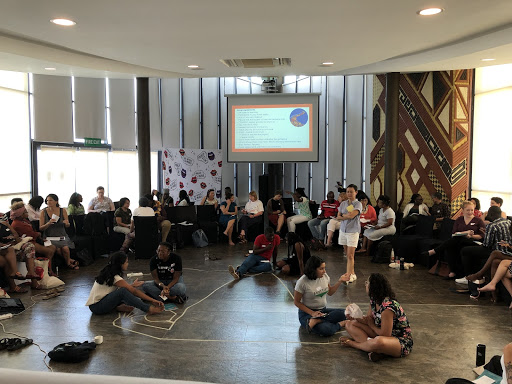 Lastly, all participants, including the facilitation team, spent time reflecting about their role in the network in terms of Directions, Reflections and Questions. Miriam Yeung, our Strategic Planning Consultant, led this session titled The Network is Us. She encouraged everyone to think about experiences in their lives, values that they hold and dreams that we wish to achieve. And members put all these pieces of their story together into a personal strategic plan, that they wrote up or drew into, and then folded into an origami book !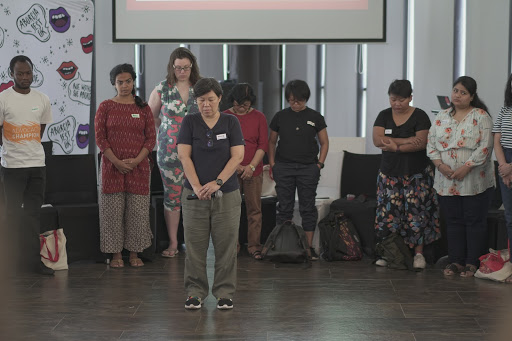 On the closing day of the gathering, members observed a moment of silence and engaged in a collective action in solidarity with our friends and colleagues in Thailand. We all stood in solidarity with Plern, a 19 year old girl from Thailand who died from abortion complications, and Noom shared a message for decriminalization of abortion in Thailand. We always take a lot back home with us each time we come together, and our collective knowledge and strength grows manifold. Soon after our gathering ended, we received the news from Thailand that the Thai Constitution Court had Section 301, which spoke of punishment to women for abortions, was anti-constitutional. And this made it even more apparent our need to build on global solidarity and learning.
The relationship between all of our independent work, our partnerships and our collective network direction was a crucial part of each day of the inroads Global Member Gathering. While the inroads global network continues to grow and deepen its work, inroads as an organisation is no longer going to be a project housed at Ipas, and instead will be be an independent 501c3 organisation as of September 1! Currently, staff and Steering Committee are engaged in a process of Strategic Planning, and the recent global gathering continues to provide insights into how to work together towards a world without abortion stigma.