inroads Vision, Mission, and Values
Vision
We envision a world where abortion care is centered around the needs, experiences, leadership, and requirements of those who have them. Where stigma, fear and misinformation about abortion can be eradicated through collective culture change to eliminate abortion stigma. We are creating a future where we have the tools to transform systemic, legal, medical, and interpersonal levels of stigma so that people can be free to experience abortion on their own terms.
Mission
The International Network for the Reduction of Abortion Discrimination and Stigma works towards freedom for past, present, and future abortion seekers by funding movements and strengthening connections within the global community of abortion advocates, artists, scholars, activists, journalists, community workers, and providers.
Values
These values were co-created by inroads members, the 2020 steering committee, and staff. Our values are rooted in our desire to end abortion stigma and create a world where abortion is an accessible right.
Community Care
The network values care in the abortions we want to destigmatize, in the work we do, and in the way we treat each other as fellow members in the network. We seek a world where abortions are considered normal and allowed to have the meaning and valence relevant to the person having that abortion; where people can access the abortions they need or want, with dignity and humanity. We believe support, exchange, and uplifting each other are integral to the work of ending stigma.
Equity
We come together with different needs, unequal backgrounds, and diverse contexts, and we acknowledge and consciously address these. We intentionally turn systems upside-down to see them better, remake them, or dismantle those preventing our success and progress. We center lived experiences of abortion and abortion stigma, we shift narratives of scarcity to abundance, and we challenge the power.
Authentic Engagement
Experience is expertise at inroads, and thus there are multiple ways to "make inroads" on abortion stigma. Members share, be, learn, listen, act, make decisions, and steer the direction of the network. When we engage in a circular process of reflection and action, we connect and create the community of practice. We nurture our differences as strengths that allow us to generate spaces of honest learning, shared desires, and radical support.
Fearless Passion
We are aflame with the conviction that a conscious, committed, and multifacted strategy will pave the way for a world without abortion stigma. We challenge any boundaries or binaries that are put on us--they have no place in our liberation--and we vibrantly celebrate each other's successes and observe the failures. We are one and many, authentic and creative, accountable to only ourselves and our communities. We will end abortion stigma, and we will do it together.
Strategic Goals 2021-2025
After a year long collaborative effort, we are happy to share our strategic goals, which are informed by our mission, vision and values. Join us in our member led collective strategy to end abortion stigma!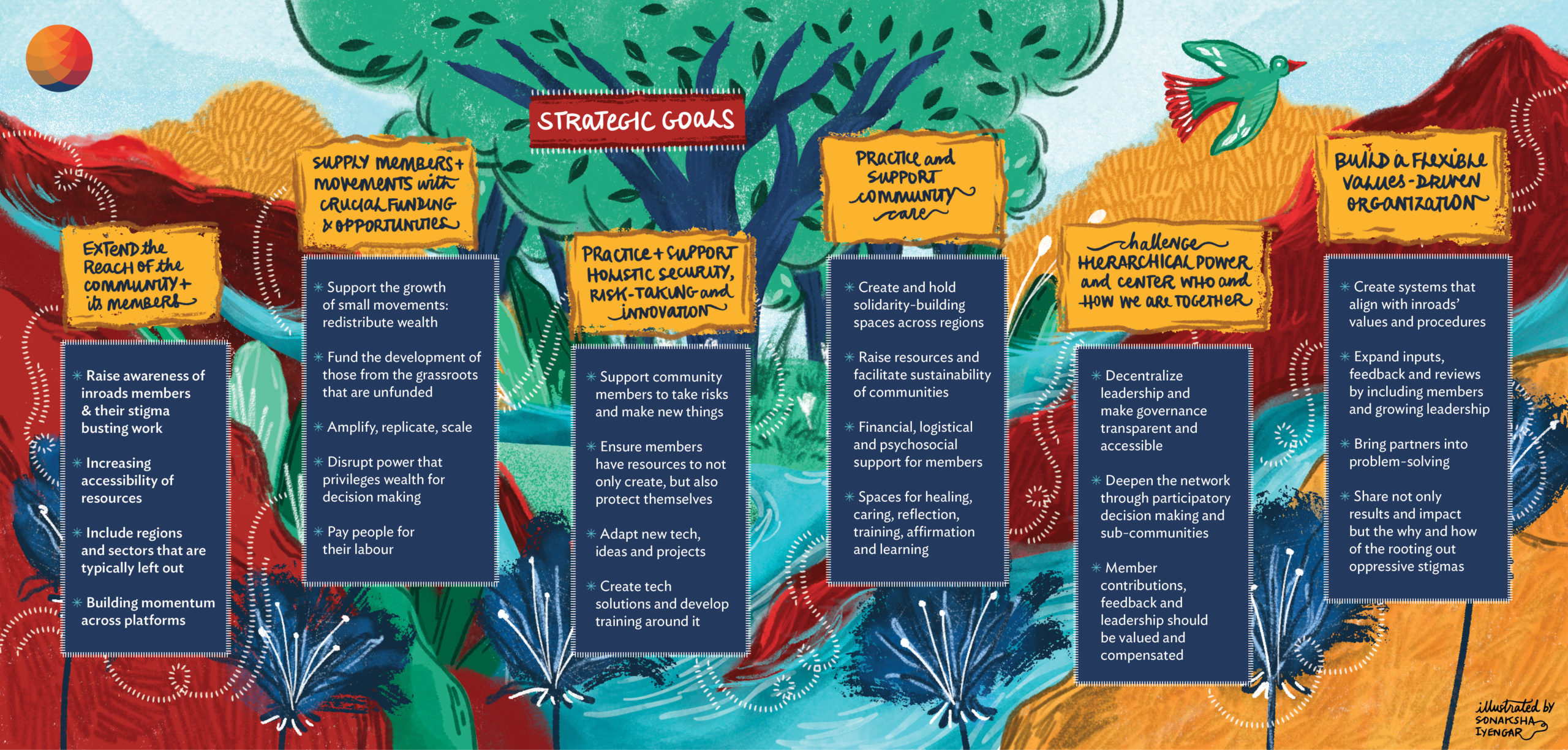 click to zoom image
To read more about our strategic plan click here.