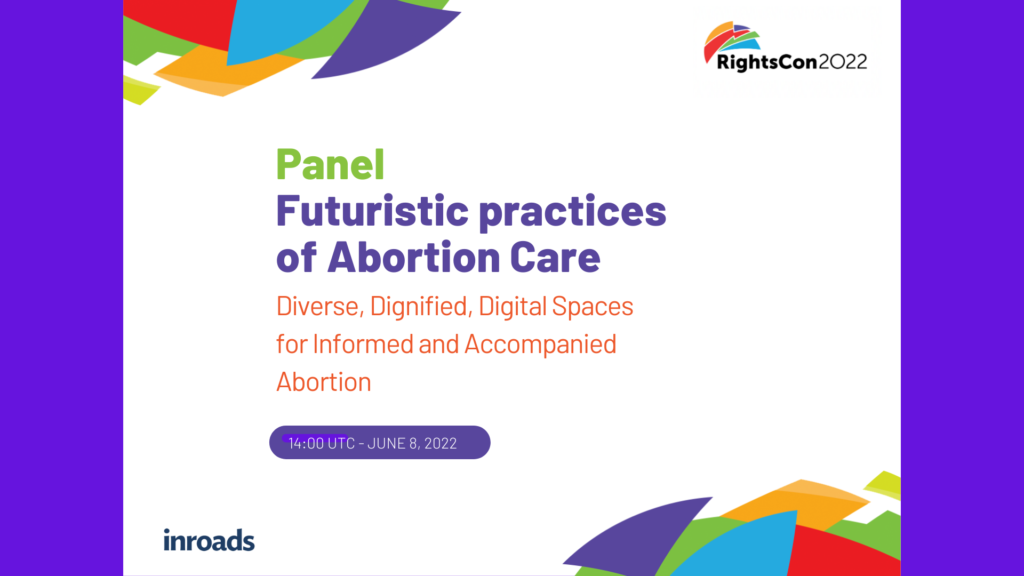 We are excited to share that we are co-organizing and hosting, with a diverse group of inroads members, a powerful panel at the RightsCon 2022 Summit titled Futuristic practices of Abortion Care: Diverse, Dignified, Digital Spaces for Informed and Accompanied Abortion.
About the panel:
Through the panel discussion, participants will learn about the futuristic and creative approaches in which diverse organizations and collectives are busting abortion stigma and ensuring its access through a range of relevant digital-based community-care centered processes for abortion accompaniment, narrative transformation, social decriminalization and stigma-busting that are building the just, equitable and dignified future we need—and as Toni Cade Bambara said: "make justice and revolution irresistible". 

Date & time: 2 to 3 PM on  June 8, 2022
Panelists from the inroads community:
Camila Ochoa Mendoza, from Abortion with Love Podcast & Women Help Women
Ihunanya Chukwu, from Generation Initiative for Women and Youth Network and Mama Sophia App
Jasmine George, from Hidden Pockets Collective
Zachi Brewster, from Dopo Abortion Support
Moderator: Aditi Pinto, from inroads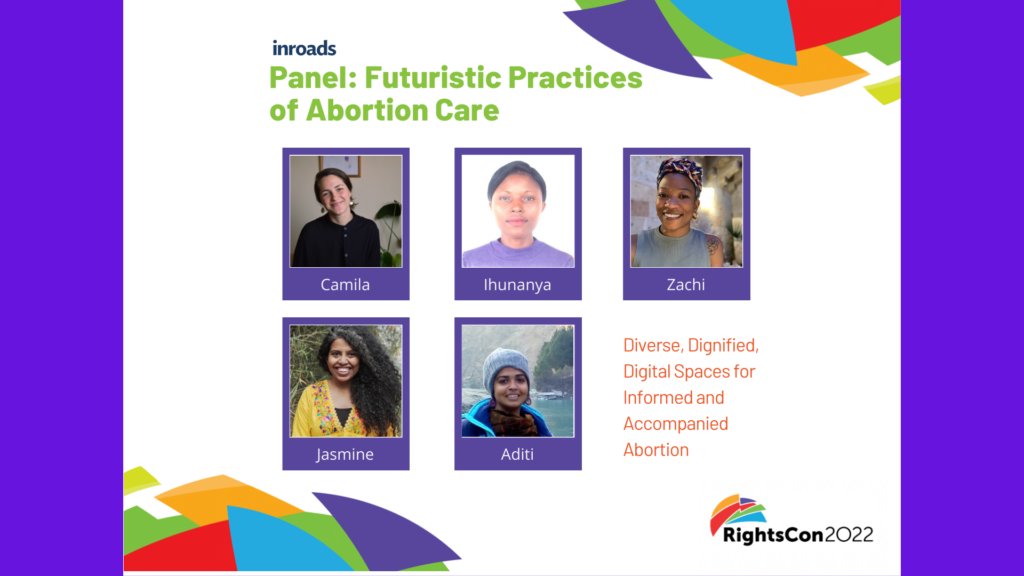 We organize and support inroads members' participation in key convening spaces as part of our commitment to amplifying the voices, dreams, and efforts of our powerful stigma-busting community and to raise awareness, build solidarity, and ensure participation in strategic spaces and processes. In an effort to correct the inequitable compensation and volunteerism trend in the traditional global development sector, we are also committed to ensuring that members who contribute their wisdom and lived experiences at key convening spaces receive just compensation for their offerings and allocate inroads resources to do so.
About RightsCon:
RightsCon is a powerful international summit focusing on human rights in the digital age.
The 2022 summit will be hosted entirely online and across all time zones from Monday, June 6 to Friday, June 10, 2022. With 500+ sessions scheduled and more than 10,000 participants projected to participate from across the world.  Registration is open on the summit platform, where you'll have access to hundreds of interactive panels, workshops, and community labs, plus featured fireside chats, interviews from the new RightsCon studio, networking spaces, program rewinds and previews, performances, creative exhibits, private program opportunities, and much more. There are both free and paid tickets available.
Language: The panel will be in English, and we regret to say that the RightCon Summit currently does not have live interpretation available for other languages.