The Tamtang Group project that will be supported by inroads 2021 iPF Grants focuses on developing a pilot to communicate about abortion with young people using TikTok.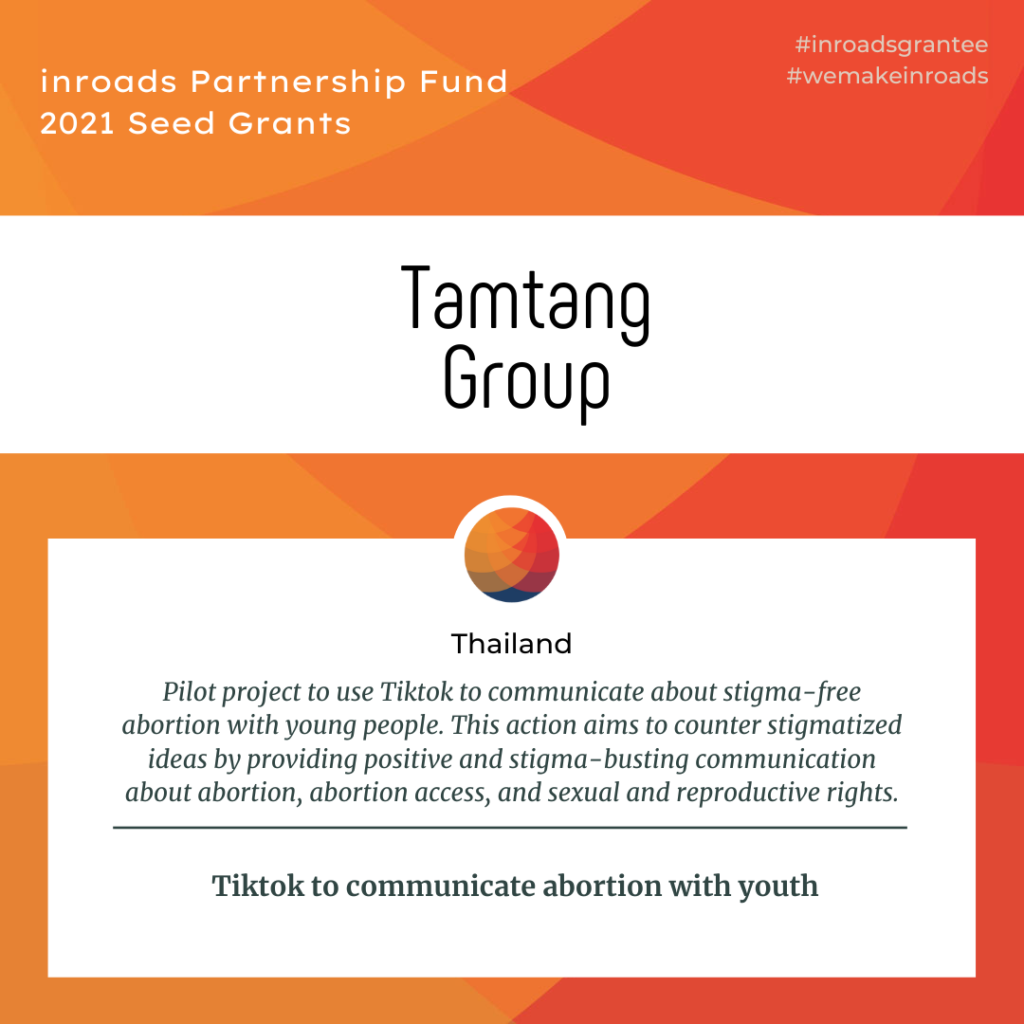 Tamtang Group perceived that Thai youth is bombarded by negative, incorrect, and stigmatized ideas about sexual health, reproductive rights, and abortion from teachers and parents. This action aims to counter those negative ideas by providing positive and stigma-busting communication about abortion, abortion access, and sexual and reproductive rights.
"We decided to use social media to communicate with youth because, with social media, there is no gatekeeper, and the information and message can go directly to them."
Key activities:
Gather and train twenty youth (under 20) members of the community on abortion and reproductive rights
Explore more about what kind of stigma youth hold on to and ways to communicate with youth about choices in their pregnancy.
For 11 months, hold monthly meetings with the youth to brainstorm and plan TikTok clips.
Create 40 TikTok videoclips that will be publish in the Tamtang group Tiktok account.
Measure impact.
Support the youth reached by this campaign to access safe abortion.
The team behind the project:
The Tamtang team has extensive experience creating and promoting abortion and reproductive rights content on social media and digital platforms. Their expertise includes content for Facebook, where they gathered more than 22K followers, content for Youtube, where they released over 30 videos, and the creation of a podcast series with 17 current episodes, among others. Their team comprises diverse members with multidisciplinary skills intersectional experiences.
What results will be shared with the inroads community?
The team will share with the members the created video clips for TikTok, and can translate some of them to English.
Report
How will they assess the project's positive impact?
To assess the impact the team will measure
1. The number of followers and viewers reach on Tiktok,
2. The amount of youth (under 20) reaching Tamtang counseling sessions due to this campaign.
3. the suitable messages are proposed in the meeting with the Health Department, MOPH
Follow Tamtang on Twitter here!
---