The first inroads Stigma at the Intersections: Abortion, Disability, HIV and Access workshop was held on October 12,13, and 14. During these days, a cohort of about 25 participants gathered for 2 hours each day. The sessions had interpretations in French, Spanish, and Filipino Sign Language. Breaks and activities were done using collaborative Google Slides, break-out rooms, videos, and sliding scale polls to make it participatory and allow for as much mutual learning as possible.
The member facilitators and inroads staff ("we") gathered for 3 joint planning sessions before the workshop week and spent time in smaller groups working on the details of each day's session. During these planning days, we reflected on how it is important for inroads as individuals, organisations, and an abortion stigma-busting network to:
Center the voices of people with disabilities.
Have a Disability Justice approach: where disability is a social justice issue and not a bio-medical issue, especially in the context of abortions, and where we understand disability and other intersecting stigmas affect one another.
Break with ableist practices and see that many of us are disabled or could be disabled one day.
Below is a collective narrative by the facilitators of the session about the learning goals of the workshop, a workbook-style guide that members can use to facilitate in their own spaces of work, key messages, and takeaways from the sessions.
Learning Goals of the workshop:
To underline stigma related to abortion, how it affects people with disabilities and other marginalised groups such as people living with HIV, sex workers, people who inject drugs, trans and queer community.
To generate discussion and learning on abortion and disability that is genuinely intersectional and goes beyond and anti-abortion narrative of abortion on grounds of disability.
To ensure that there is not simply room for this discussion, but that real, safe, and brave spaces are created with the intent of broadening this learning with, and not just on behalf of, of those of us with disabilities.
To ensure that the autonomy, agency, and attitude of those of us with disabilities are heard, seen, and hold their rightful place in dismantling stigma.
Workbook
To facilitate the learning experience of members who could not attend the live session, we prepared a workbook version of the materials from the workshop. Available in English, Spanish, and French.
We invite you to use this material within your community and organization to learn, reflect and brainstorm around the BIG questions that come up in this work to build understanding and anti-stigma practices inclusive of people with disabilities and other vulnerable groups.
Download the workbook in English, Spanish or French.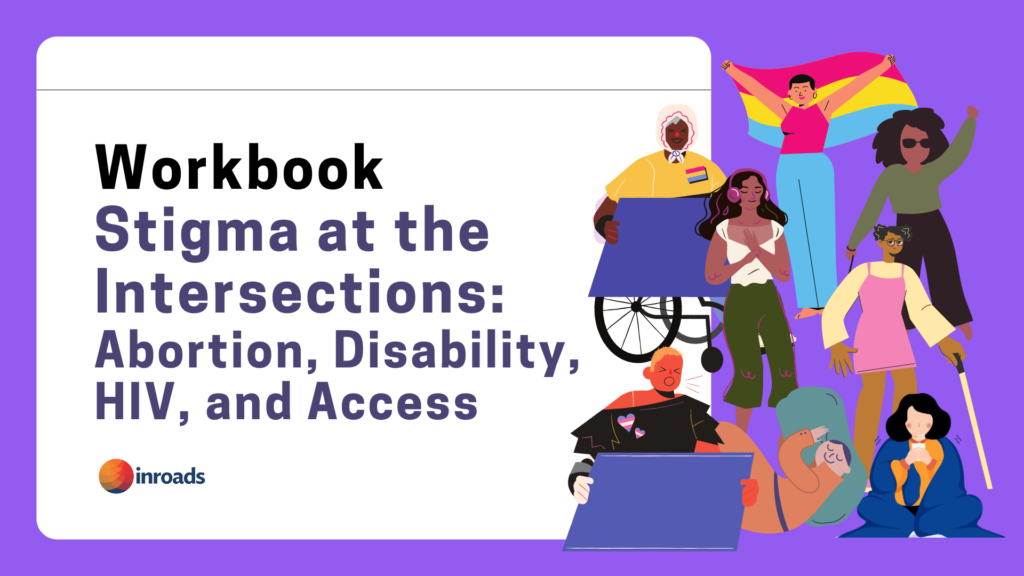 Key messages from the workshop:
Disability is used in abortion discourse in ways that ignore the needs of disabled people and obscure harm. Inclusion of disability in abortion is key to realising an abortion stigma free society.
It is now that we should stop speaking about abortion and disability in small letters for ours voices to be heard and included. An intersectional response, with focus on stigma, will allow disabled people to have their own voice on abortion and other reproductive injustices.
The 'difficult' questions (fetal diagnoses and misrepresentation, public perception of later gestational abortions, access, reproductive coercion, and consent/power of attorney) – Ask them. Seek developed answers. Sometimes 'difficult'/'controversial is a fig leaf for 'don't want to. Silence can be stigma.
Reflections From the Session